Indian media criticise 'offloading' of Greenpeace member at Delhi airport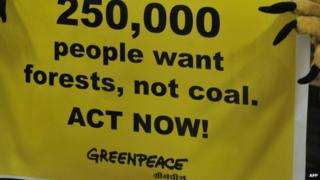 Papers in India have criticised the authorities' decision to stop an activist of global campaign group Greenpeace from flying to London.
Priya Pillai was due to brief British MPs on how a proposed coal mine by a UK-based company was threatening the livelihoods of local villagers.
Greenpeace has alleged that she was refused permission to board her flight by immigration officers on Sunday.
Ms Pillai said in a statement that she had a valid visa but was barred from boarding the aircraft by immigration officials who stamped her passport with the word "offload".
"Today my right to freedom of movement has been infringed and there was an attempt to treat me like a criminal," she said.
Some papers see the decision anti-democratic and believe that the government needs to be more tolerant to "alternative voices".
"The government's barring of Greenpeace-India campaigner Priya Pillai from boarding a flight to London lays bare a deepening anti-democratic streak in its approach to alternative voices, dissenting opinion and activism," says the Deccan Herald in an editorial.
The paper adds that "the road from intolerance to authoritarian is a short and slippery one".
"By silencing opinion and putting citizens on blacklists and watchlists, the government is acting unconstitutionally. It is only shaming itself...," it says.
The Indian Express agrees, saying "the social sector should be seen as a partner in the process of development, not a political adversary paid in dollars to lobby for alien agendas and foment dissatisfaction in the countryside".
The paper adds that "lobbying and activism are legitimate acts. The government's response should be to negotiate".
"The puerile alternative of offloading inconvenient people mars the image of confident maturity that India is trying to project," it says.
---
NRI voting
Papers have welcomed the government's decision to allow Non-resident Indians (Indian diaspora) to vote in Indian elections.
The government has accepted the Election Commission's recommendation that members of the Indian diaspora should be allowed to vote through e-ballot or through proxy.
"For years, NRIs were deprived of voting rights as their names were removed from the voters' list if they had been out of the country for more than six months at a stretch...There are an estimated 11 million NRIs across the world and there is nothing that will bond them with their country of origin as the exercise of the right to vote," says the New Indian Express in an editorial.
The Asian Age also welcomes the decision.
"The fact that 114 countries have accepted external voting makes it all the more incumbent on India, a model democracy in many ways, to enable a larger and more inclusive electorate," it says.
---
Defence delays
Papers have also been discussing the the "untimely" sacking of the chief of India's state-run defence equipment manufacturer.
Avinash Chander, the chief of Defence Research and Development Organisation (DRDO), was sacked on Tuesday - a year before his contract was due to expire.
On Wednesday, Mr Chander said he was not sure about the reasons behind his "unceremonious" exit.
"I am hearing this from you. It has come as a shock to me. I haven't received any order from the government," he told the Hindustan Times.
Some reports have connected his exit to Prime Minister Narendra Modi's open criticism of the DRDO's functioning.
"The reasons for Chander's unceremonious exit could not be immediately ascertained but the DRDO had in August come in for sharp criticism from Prime Minister Narendra Modi over delays and cost overruns in key military programmes," the paper adds.
BBC Monitoring reports and analyses news from TV, radio, web and print media around the world. You can follow BBC Monitoring on Twitter and Facebook.