India bans burning cow dung near Taj Mahal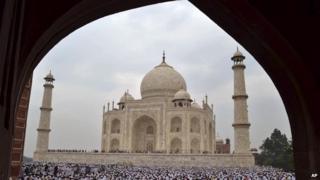 India has banned the burning of cow dung fuel cakes near the Taj Mahal amid fears that the iconic monument is turning yellow from air pollution.
Cow dung is a common source of fuel in India. It is hoped the ban will help reduce carbon deposits on the monument.
The Taj Mahal is a Unesco World Heritage site and attracts millions of visitors each year.
But it also has to contend with pollution from the busy, industrial city of Agra and a nearby oil refinery.
"From time to time there are concerns that the colour of the Taj is changing," Pradeep Bhatnagar, senior Agra official, told the AFP news agency.
"So at a recent meeting it was decided that there should be a ban on burning cow dung fuel within the city limits.
"There is an aesthetic aspect to it as well. We don't want the city's walls to be plastered with cow dung," he added.
Mr Bhatnagar said residents of Agra would now be encouraged to use cleaner fuel and more of them would be given gas connections.
Dried cow dung cakes are commonly used in rural areas as a cheap source of fuel for heating and cooking.
The Taj Mahal sits on the bank of the Yamuna river in the city of Agra in the northern state of Uttar Pradesh.
The 17th Century mausoleum was completed by the Emperor Shah Jahan in 1653 as a memorial for his third and favourite wife, Mumtaz Mahal, who died giving birth to their 14th child.
The monument's complex structure of white marble domes and minarets inlaid with semi-precious stones and carvings is considered the finest example of Mughal art in India.