India fog continues to cause chaos travel chaos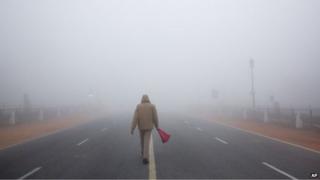 Extreme cold and dense fog have continued to cause massive travel chaos in the capital, Delhi, and parts of northern India.
Reports said more than 60 flights and 100 trains have been delayed while some have even been cancelled.
Visibility at the Delhi airport dropped to below 50 metres on Tuesday morning leading to the cancellation of 19 flights.
Road traffic in the capital city and on many main roads was crawling.
Traffic disruption caused by winter fog has become routine in northern India.
On Tuesday morning, dense fog also enveloped airports in Amritsar, Lucknow, Varanasi and Agra.
Reports said foggy conditions at the Delhi airport resulted in the delay of 20 international flights while one was cancelled.
On Sunday, Delhi recorded this season's coldest day with temperatures, falling below 3C. The suburb of Gurgaon fell below 1C.
Cold weather is also continuing in most parts of the northern states of Punjab, Haryana, Uttar Pradesh, Madhya Pradesh, Rajasthan and the Kashmir Valley.
On Monday night, the city of Amritsar recorded the minimum temperature of 0C, Srinagar was at minus 4.1C while Leh town in Ladakh was at minus 15.4C.
Local TV channels reported that parts of Srinagar's famed Dal Lake had frozen.
A number of cold-related deaths have also been reported.
The meteorological department has predicted that the cold and the dense fog will last at least until the end of the year.