India in 2014: Revisiting top news events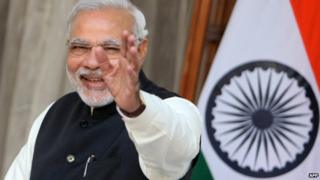 It was a year that gave India a new prime minister, a Nobel laureate and also witnessed the country successfully putting a satellite into orbit around Mars.
India also received polio-free status from the World Health Organisation in 2014.
But there were also stories of heartaches and tragedies - Indian-administered Kashmir witnessed its worst floods in decades and veteran author Khushwant Singh died.
---
Modi's triumph
Prime Minister Narendra Modi led his Bharatiya Janata Party (BJP) to a landslide win in the general election in May.
Mr Modi faced stiff opposition from veteran BJP leaders like LK Advani before he was formally announced as the party's PM candidate in late 2013.
He also defied opposition from the Congress and other parties to secure a comfortable victory for his party.
Many observers said Mr Modi ran a presidential-style campaign and saw the results as a referendum on his leadership.
His critics had rejected his leadership over his controversial record as the chief minister of the western state of Gujarat.
Mr Modi is generally credited with turning the state of Gujarat into an economic powerhouse but his critics accuse him of doing little to stop the 2002 anti-Muslim riots in which more than 1,000 people, mostly Muslims, were killed.
He has always denied these allegations.
But in the end, he defied all predictions and opposition to become the country's prime minister on 26 May.
---
Kejriwal quits
Mr Modi scripted history by wining the general election for his party, but the debutant anti-corruption Aam Aadmi Party (AAP) lost badly in the polls.
Analysts say the AAP performed badly because of its leader Arvind Kejriwal's decision to quit as Delhi chief minister after serving for only 49 days.
Mr Kejriwal quit in February after an anti-corruption bill was blocked in the state assembly.
The AAP was born out of a strong anti-corruption movement that swept India in 2011.
---
Mars mission
The biggest success story for India in 2014 came in space technology. India's Mars Orbiter Mission, also called Mangalyaan, started orbiting the Red Planet on 24 September.
India became the first country to successfully send a spacecraft into orbit around Mars in its first attempt.
The Indian Space Research Organisation's (Isro) received accolades from all over the country for the mission's success.
Prime Minister Narendra Modi said the mission had cost less than the amount used to make Hollywood space thriller Gravity.
India has now joined the elite group of the US, Russia and Europe with its successful Mars mission.
---
Nobel win
This year will also be remembered because Indian child rights campaigner Kailash Satyarthi received the Nobel Peace Prize along with Pakistani education activist Malala Yousafzai.
The 60-year-old runs Bachpan Bachao Andolan (Movement to Save Childhood), a non-governmental organisation that fights to stop child labour in India.
Mr Satyarthi's initiative has helped liberate more than 80,000 children from bonded labour in factories and workshops across India.
"There is no greater violence than to deny the dreams of our children. I refuse to accept that the shackles of slavery can ever be stronger than the quest for freedom," Mr Satyarthi said during his speech at the awards ceremony.
---
'Polio free' India
India's long fight against polio proved successful in March when the World Health Organisation (WHO) officially declared it "polio free".
Analysts said the achievement was remarkable considering India's poor public healthcare system.
High population density, birth rate and poor sanitation make it tougher for India to cope with medical challenges.
The victory against polio was attributed to relentless effort of health authorities and vaccination teams who led a massive immunisation campaign for more than a decade.
---
Kashmir floods
Severe floods in Indian-administered Kashmir left at least 270 people dead and thousands displaced in September.
The Indian armed forces were deployed to carry out a massive search and rescue operation in the state.
Entire villages were submerged and road and communication links snapped in the worst floods in 60 years in the state.
Pictures showed the main areas in the state capital, Srinagar, under water with people standing on roofs of their homes waiting to be rescued.
---
India's 29th state
After years of violent protests, the southern state of Andhra Pradesh was divided on 2 June to create India's 29th state - Telangana.
K Chandrasekhar Rao of the Telangana Rashtra Samithi party (TRS) was sworn in as the new state's chief minister.
Mr Rao and his party struggled for 14 years and spearheaded the movement to carve out the new state.
People in Telangana celebrated the creation of the new state, while those in Andhra Pradesh expressed their disappointment.
---
Those who left...
In 2014, India also lost some legends in the world of literature and public health.
Khushwant Singh, one of the most celebrated writers in the country, died at the age of 99 on 20 March. He wrote many popular books, including Train to Pakistan, during his long career.
Yoga guru BKS Iyengar died at the age of 95 on 20 August.
Famous for creating his own form of yoga, Mr Iyengar taught author Aldous Huxley and violinist Yehudi Menuhin, among other celebrities.
---
Additional reporting by Mukesh Adhikary
BBC Monitoring reports and analyses news from TV, radio, web and print media around the world. You can follow BBC Monitoring on Twitter and Facebook.