Bangalore blast kills Indian woman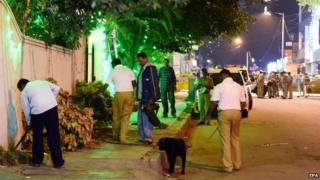 A home-made bomb exploded outside a restaurant in the southern Indian city of Bangalore, killing a woman who was passing by and injuring five others.
The blast on Sunday night took place in a busy area and the police have described it as a "terrorist attack".
Bangalore has been on alert since earlier this month when an engineer was arrested for allegedly running a pro-Islamic State Twitter account.
Since then, police have received several threats of retaliation.
Mehdi Masroor Biswas's Twitter account had tens of thousands of followers worldwide.
The blast took place on Church Street in the central business district at 20:38 India time (15:38GMT), reports BBC Hindi's Imran Qureshi in Bangalore.
Bhavani, the woman who died, was walking past the popular restaurant when the bomb placed outside its gate exploded.
Her nephew received shrapnel injuries on his left shoulder and is being treated in hospital.
"It is a professional job. The IED [improvised explosive device] and the timer is not the handiwork of an amateur. It is a terrorist organisation but we are yet to identify the group," a senior police official told BBC Hindi.
The blast has prompted a security alert in other Indian cities.
Bangalore, home to hundreds of IT companies including multinationals like IBM, Hewlett Packard and Microsoft, is considered a soft target for terror attacks and has had several low-intensity blasts in the past few years.
Last year, 16 people were injured in an explosion near the office of the Bharatiya Janata Party (BJP).
In April 2010, the Indian Premier League cricket semi-finals were moved from Bangalore to Mumbai after two devices exploded outside Bangalore's Chinnaswamy Stadium.
In July 2008, one woman was killed and several others injured when seven bombs hit crowded areas of the city.