Indian media: 'Outrage' over Lakhvi's bail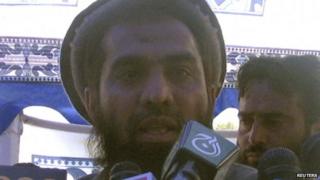 Papers are shocked at a Pakistani court's decision to grant bail to a man India accuses of masterminding the 2008 Mumbai attacks.
India says Zaki-ur-Rehman Lakhvi was one of the main conspirators of the attacks that killed 165 people in November 2008.
He was arrested in 2009 after India submitted evidence to Pakistan about his involvement in the attacks.
On Thursday, India's foreign ministry said it was disappointed with the order.
"Despite repeated assurances that have been received, we have seen both the prosecution of the seven accused in the Anti-Terror Court in Islamabad, as also the investigation by the authorities into the larger conspiracy surrounding the Mumbai attack case, proceeding at a glacial pace," ministry spokesperson Syed Akbaruddin said.
"The story of repeated postponements, adjournments and unavailability of concerned law officers or witnesses is well documented and does not require repetition. The move to grant bail to Zaki-ur-Rehman Lakhvi yesterday has taken this saga to another level," he added.
The bail comes two days after a Taliban attack killed at least 130 children at an army school in Peshawar.
Most Indian papers were quick to condemn the "barbaric" attack on school children and promised that Indians stood with Pakistan in its fight against terror groups.
However, Lakhvi's bail has now prompted Indian papers to raise questions over Pakistan's willingness to punish men accused of planning the Mumbai attacks.
"There have been unprecedented outpourings of sympathy and anguish for the murdered schoolchildren in India, erasing sub-continental divides. But the grant of bail to Lakhvi... exposes severe weaknesses in Islamabad's counter-terror strategy," says an editorial in The Times of India.
The paper urges Pakistan to "crack down on terrorist groups of all stripes, including those directing their activities against India".
The Indian Express says the decision has "sparked outrage in India".
"The order came just a day after Pakistan Prime Minister Nawaz Sharif said there would be no differentiation between 'good' and 'bad' Taliban," it says.
A report in the Hindustan Times says Pakistan has enough evidence to convict Lakhvi.
"Former home minister P Chidambaram had continuously maintained that a lot of evidence lay on Pakistani soil. Lakhvi's bail on grounds that the evidence was not enough is a major setback to the trial," it says.
Aviation concerns
Moving on to other stories, papers urge the government to create a "well-regulated fallback option" for passengers in the event of an airline being grounded.
Papers express their concerns after the fleet of debt-ridden carrier Spicejet, which owes money to creditors, including oil companies, was grounded for several hours on Wednesday.
The cancellations left thousand of angry travellers stranded at airports across the country. However, SpiceJet resumed flights on Wednesday evening after it agreed to pay oil companies cash for fuel purchases.
"What, however, is a matter of concern is that the lack of a well-regulated fallback option for passengers and employees when airlines ground because of poor business planning," says the Hindustan Times.
However, the paper warns the government against bailing out struggling airlines with taxpayers' money.
"It may not be the wisest move by the government, fighting bigger fires, to offer a taxpayers' money-funded lifeline to the aviation industry," it says.
The Indian Express agrees that the government needs to put pressure on the owners of struggling aviation firms to come up with sound business plans.
"The government would do well to step back and let market-driven events unfold. It must not be seen to be promoting crony capitalism, or to be pro-business rather than pro-market," it says.
BBC Monitoring reports and analyses news from TV, radio, web and print media around the world. You can follow BBC Monitoring on Twitter and Facebook.