India MP Sakshi Maharaj sorry for praising Gandhi killer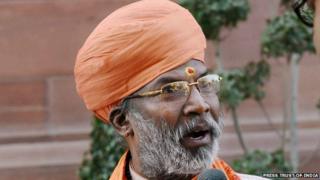 An MP from India's governing party has apologised in parliament a day after he praised the killer of independence leader Mahatma Gandhi as a "patriot".
But Sakshi Maharaj of the Bharatiya Janata Party (BJP) used his apology to attack the opposition Congress Party, fuelling further outrage.
Earlier this month another BJP MP sparked outrage by using offensive language to describe non-Hindus.
Gandhi was assassinated in 1948 by Nathuram Godse, a hard-line Hindu.
Godse, who was executed for the murder, resented Gandhi's calls for Hindus and Muslims to unite.
On Thursday, Sakshi Maharaj had said: "Godse was an aggrieved person. He may have done something by mistake but was not an anti-national. He was a patriot."
The comments led to outrage in parliament, with opposition MPs condemning attempts to "glorify" Godse.
"I respect Gandhi, I respect the House. I withdraw my remarks," the MP said in the lower house of parliament on Friday.
But he went on to say that the opposition Congress "killed the Mahatma's ideology in 1984 during anti-Sikh riots", in which Congress leaders were accused of leading mob attacks.
This drew loud protests from opposition MPs, who refused to accept the apology.
The government distanced itself from his remarks.
Parliamentary Affairs Minister M Venkaiah Naidu said nobody could accept eulogising the assassin of Gandhi.
Many Indians have taken to Twitter to express their outrage.
Journalist Abhijit Majumder tweeted that Godse stood for "everything Hinduism is not".
Chief Minister of the north-eastern state of Assam said the BJP believed in Godse's idea of "intolerance".
Several BJP figures have recently been in the news for making controversial remarks.
Earlier this month, Minister for Food Processing Niranjan Jyoti used an abusive term to refer to non-Hindus, by asking people at a public rally to choose between Ramzada (children of the Hindu God Ram) and Haramzada (bastards).
Prime Minister Narendra Modi said he disapproved of her language but refused to sack her.
In the run up to the summer's general election, Mr Modi's close confidante and BJP chief Amit Shah was accused of "delivering a hate speech".
Video footage of him campaigning in the northern city of Muzaffarnagar in April showed him saying the polls were an opportunity to seek "revenge for the insult" inflicted during the 2013 Muzaffarnagar religious riots.
At least 65 people died and 51,000 people - mostly Muslims - were displaced after Hindu-Muslim clashes in Muzaffarnagar.