Shenaz Treasurywala: India actress in plea to stop rape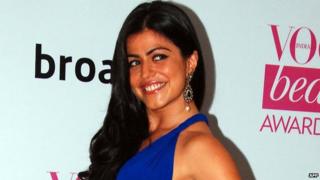 An open letter written by a Bollywood actress and former television host appealing to India's "most powerful men" to help stop rape has gone viral.
Shenaz Treasurywala's letter is addressed to Prime Minister Narendra Modi, top Bollywood stars, cricketer Sachin Tendulkar and others.
It describes instances of harassment she and others have faced in Mumbai.
The letter came after an Uber taxi driver was accused of raping a passenger in the capital, Delhi.
The 26-year-old woman had used the Uber smartphone app to book a taxi home on Friday night but said she was taken to a secluded area and raped.
The driver of the web-based taxi service has been arrested and remanded in custody.
Treasurywala has worked in half a dozen Bollywood films, including in Delhi Belly, Ishq Vishq , Hum Tum and Luv Ka The End.
She also acted in the American soap One Life to Live.
Treasurywala's letter addresses "Dear Narendra Modi, [Bollywood superstar] Amitabh Bachchan, Sachin Tendulkar, [stars] Shahrukh Khan, Salman Khan, Aamir Khan and [businessman] Anil Ambani" because "you are the most powerful and influential men in the country".
She says when a woman is groped or assaulted it is "not her shame", but it is the shame of the "men in our country".
"[The men are] not just the rapists and the sexual offenders and gropers but also our fathers (sorry dad) and uncles and brothers and movie stars and cricketers and politicians for not saving us or protecting us by insisting and protesting for the laws to change and rapists and gropers to be punished severely," she writes.
Insisting that the safety of women is the "number one issue" in India, Treasurywala appeals to the prime minister to "fix this before anything else".
"What good are all your speeches in the US or Japan or Australia - NAMO [Narendra Modi], if no woman can walk freely in the streets even in broad daylight by herself in the capital of our country. Isn't this a shame? Shame on you sir," she writes.
The letter has been covered extensively by the Indian media and shared extensively on social media sites like Facebook and Twitter, with many like Manan praising her:
Pun_Geetayeen said the letter reminded her of her own experiences of sexual harassment:
Ahilarious called the letter "brilliant" but cautioned against not treating it "as flavour of the month":
Khushboo Kasavkar, however, wondered if Treasurywala's letter was a gimmick to promote her upcoming movie Main Aur Mr Right:
But Lester Fernandes said being cynical was going to take away from the real issue of women's safety: