India sterilisation 'drunk' doctor suspended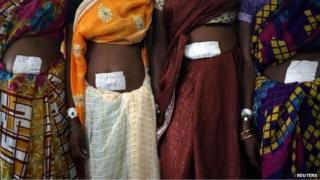 Authorities in India's Himachal Pradesh state have suspended a doctor who allegedly fell asleep in the midst of performing sterilisation surgeries.
The doctor, who was allegedly drunk, went off to sleep after operating on five women at a free sterilisation camp in Mandi district area on Wednesday.
A sixth patient had been anaesthetised and was awaiting surgery.
Last month, a scandal erupted over sterilisations when 15 women died after operations in another state.
Tainted drugs were blamed for the botched surgeries at a government-run camp in Chhattisgarh state.
Authorities said the latest incident happened at a free health camp in Suraj valley where 60 women had signed up for free sterilisation surgeries.
They said the doctor had consumed alcohol and conducted five surgeries, before he shut himself up in a room and went off to sleep.
The sixth patient was later taken out of the operation theatre by her family members.
Senior state official Vineet Chawdhry said the five women who had been operated upon by the doctor were "fine and have been discharged and sent home".
"So far they have not reported any complications," he said.
Sterilisation camps are frequently held to carry out mass tubectomy operations for women - or vasectomies for men - and health workers often receive money for each person they bring to a clinic to be sterilised.
The vast majority who take part are women, mostly poor and often paid to be sterilised.