Christie's second India auction nets $12m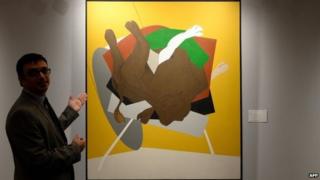 London-based auction house Christie's has raised more than $12m (£7.6m) at its second art sale in India, exceeding its pre-sale expectations.
The top seller at the Mumbai sale was a painting by Indian artist Tyeb Mehta, which sold for $2.8m.
The auction house sold a total of 78 art works at Thursday's auction.
Last December Christie's had sold 83 art works and raised more than $15m at its first-ever art sale in India.
Christie's second sale in India featured paintings by several Indian masters including MF Husain, SH Raza and author-artist Rabindranath Tagore.
The top selling work was an acrylic on canvas painting of a falling bull by Mehta, one of India's top artists.
Sonal Singh, Christie's head of department in Mumbai, told the AFP news agency that said second sales were "always a little bit harder", but added that "the depth of the market is visible, quality works are in demand".
India's art market lags behind that of China, where the first Christie's auction last year raised $25m, and which has invested heavily in new museums.