Indian media: Modi's 'report card'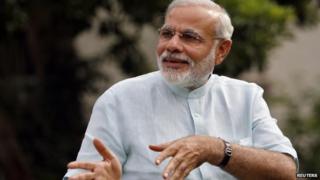 Papers analyse Indian Prime Minister Narendra Modi's performance as he completes six months in power.
Mr Modi took oath on 26 May after his Bharatiya Janata Party won the general elections.
He has announced several schemes, including banking for all, Clean India campaign and labour reforms, after coming to power.
He has also given good attention to India's foreign policy in the first six months and travelled to the US, Australia, Fiji, Japan, and Nepal and Bhutan in the immediate neighbourhood.
Some analysts say the PM seems to believe in boosting bilateral ties with key countries.
"The snail's pace of multilateral fora does not excite Mr Modi and he much prefers the big bilateral," an article in the Hindustan Times says.
The article, however, adds that Mr Modi remains to be tested on his policies with neighbouring China and Pakistan.
Delhi has border disputes with both Islamabad and Beijing.
"Pakistan and China are the real foreign policy tests of an Indian ruler. Here, Mr Modi's maximum pragmatism, minimum strategy approach has struggled," the article says.
'Lucky with oil prices'
On the economic front, The Indian Express believes Mr Modi has done well after inheriting high inflation and the sliding rupee from the previous Congress party-led government.
Inflation has come down and India's industrial output has increased in the last few months.
However, the paper adds that bigger challenges remain for Mr Modi.
"This government's true test will be in the next few months leading to the budget and thereafter. It has been lucky with oil prices, which have enabled huge savings in fuel subsidy. But getting the investment cycle going again requires more than just luck," it adds.
The Economic Times also says that the government has not announced any bold economic reforms.
"Growth disappoints, whether of credit, GDP or exports. Investment is yet to regain the momentum it lost in 2011-12. Administration is way too centralised, rather than nimble and fast," it says.
Some media outlets feel that Mr Modi has managed to retain the trust of his supporters.
"He has had his share of failures and successes and there is very little evidence to judge him decisively. But in spite of high-energy but low-yield beginning, Mr Modi's biggest success has been his ability to retain the hope of those who gave him unexpected majority six months ago," says the Firstpost website.
An article in the Asian Age highlights that Mr Modi needs to create millions of jobs for India's unemployed youth.
"Mr Modi's problems are far more serious, given that 40 million Indians are unemployed as per the Labour Bureau, government of India. I wish Mr Modi well, because the future of India is now in his hands," it says.
ATM machine stolen
And finally, thieves in Delhi managed to take away an ATM machine after failing to steal the cash, reports say.
They also took the CCTV cameras installed inside the Union Bank of India ATM booth in Narela area of Delhi.
"Police said no security guard was present at the ATM machine, and it's not clear why. The police also said that thieves had broken the street lights before uprooting the cash dispenser," the NDTV website reports.
BBC Monitoring reports and analyses news from TV, radio, web and print media around the world. . You can follow BBC Monitoring on Twitter and Facebook.