The story of India's slave brides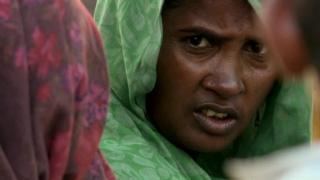 It is well known that boys are traditionally favoured in Indian culture. Abortions of female foetuses have led to a gender imbalance across the country.
In Mewat district in the northern state of Haryana the situation is particularly acute: there are 879 women for every 1,000 men. The national average is 927 women for 1,000 men.
As many men cannot find women to marry, bride trafficking has become prevalent. Girls are bought from their families in other states when they are still young and married to local men.
They are often badly treated both within the home and in the wider community where they are seen as outsiders.
The BBC's Akanksha Saxena and Neha Sharma met some of these women.
Trafficked bride
Salma was trafficked from the north-eastern state of Assam when she was only 12.
Her husband, Aas Mohammed, chose Salma over another trafficked girl and paid $60 (£38) for her to the trafficker.
Salma looks different from the women in her village in Haryana.
It took her a long time to get used to the language and social mores of her new home.
Over the years, Salma gave birth to nine children in quick succession. She says she was abused by her husband and was treated as a slave.
The trafficker
The trafficker openly admits to trading women for marriage in Haryana.
"I have helped so many men find a wife... It is a noble cause," he says.
Shafiq-ur Rahman Khan, founder of NGO Empower People, which is working to curb bride trafficking in the region, says the traffickers target the poorest villages in India - usually in states like Jharkhand, Chhattisgarh, Bihar, Orissa, Assam and West Bengal - to source the women.
"I know of local traffickers who have sold and resold women. One such, by a modest count, sold close to 600 women in this region alone," he says.
Many traffickers operate behind the facade of "match-making bureaus" who claim to arrange weddings. They mostly avoid being caught because of lax law enforcement by the police and because abused women rarely lodge complaints.
The activist
Ghausia Khan was 14 years old when she was trafficked from Hyderabad in southern India and married to a man in Haryana.
Now she works for an NGO which supports trafficked women. She also wants to stand for election.
She says "laidback bureaucrats and obnoxious traffickers" are to blame for the situation, and is resolute about bringing change if elected to power.
The widow
Roshini's parents sold her to a trafficker out of desperation to feed their younger children.
She is from Jharkhand and was barely 13 when she was sold.
She was thrown out of the house after her husband died and lives in a shack with her nine children.
Now she says she is terrified because her husband's brother, who wants to marry her, visits her and threatens her if she does not marry him.
Produced by Akanksha Saxena. Camera and editing by Neha Sharma.