Tarun Tejpal: Festival drops India rape case editor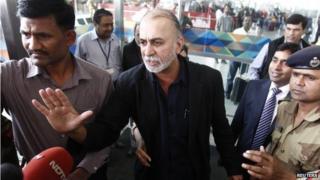 A former Indian news magazine editor charged with rape has been dropped from a literary festival after his invitation caused outrage.
Tarun Tejpal, author and former editor of Tehelka magazine, was due to speak at the Times of India Literary Carnival in early December.
The organisers said on Monday that they had asked him not to attend.
Mr Tejpal was freed on bail in July after his arrest last year. He denies charges of raping a female colleague.
In what would have been his first public appearance since the scandal broke last November, Mr Tejpal was due to speak on "The Tyranny of Power" at the literary festival to be held in Mumbai from 7 to 9 December.
But following severe criticism on social media and faced with the prospect of other invitees pulling out, the organisers decided to drop Mr Tejpal.
Senior Times of India editor Bachi Karkaria tweeted, saying the organisers did not want the event "hijacked".
Earlier, Swapan Dasgupta, a senior journalist known to be sympathetic to Prime Minister Narendra Modi, announced his decision to pull out from the festival:
The invitation to Mr Tejpal had also upset many others and senior journalist Siddharth Varadarajn described it as "dreadful":
Journalist Hindol Sengupta wondered what the invitation "says about us as a country?"
Mr Tejpal was accused of assaulting one of his junior colleagues in a lift during a Tehelka event in Goa last November.
In February, prosecutors filed charges, running to nearly 2,700 pages, in a court in Goa.
In addition to rape charges, he was also charged with "sexual harassment" and "outraging the modesty of a woman".
Legal experts say, if found guilty, he could be sentenced to at least seven years in jail.