India sterilisation drugs 'were contaminated'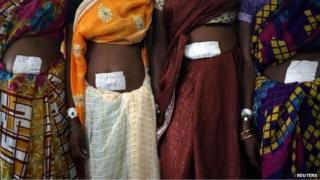 A minister in India's Chhattisgarh state has confirmed that drugs given to 15 women who died after sterilisation surgery were contaminated.
Health Minister Amar Agrawal said tests showed that they contained zinc phosphide - a substance that is also used in rat poison.
The doctor who carried out the surgery as well as two pharmaceutical factory owners have been arrested.
The doctor and the factory owners have denied any negligence and wrongdoing.
But the cause of deaths still remains unclear as post-mortem results are awaited.
A lone doctor, along with his assistant, carried out tubectomies on 130 women at two separate government health camps earlier this month.
Fourteen died after the first camp in Bilaspur and one after the second. More than 100 women were admitted to hospital.
"The drug report confirms the presence of poisonous substances, which also include zinc phosphide. We have handed over the report to the police and they have to investigate now," Mr Agrawal told the NDTV news channel over the weekend.
"It is shocking to find the presence of poisonous substances in our medicines. It is a challenge for the country," he said.
Sterilisation camps are frequently held to carry out mass tubectomy operations for women - or vasectomies for men - and health workers often receive money for each person they bring to a clinic to be sterilised.
The vast majority who take part are women, mostly poor and often paid to be sterilised.