Burmese man held over India blast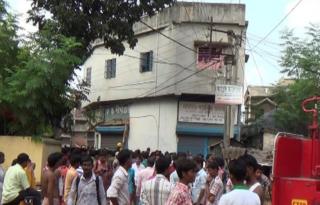 India's anti-terror officers have arrested a Burmese man in connection with an explosion in a house in West Bengal state last month.
The National Investigation Agency said it had held Khalid Mohammed in the southern city of Hyderabad on Monday.
Twelve people have been arrested so far in connection with the blast, in which two people were killed.
The police say the blast happened when people linked to a "terrorist group" were making bombs in Burdwan district.
Following the explosion on 2 October, the police recovered improvised explosives, bullets and rocket launchers from the house and a neighbouring madrassa - an Islamic religious school.
The police said those held in connection with the incident had links with the banned Bangladesh-based Islamic group Jamaatul Mujahideen Bangladesh.
The JMB was blamed for killing two judges during a wave of bomb attacks in Bangladesh in November 2005.
West Bengal shares a 2,216km (1,376 miles)-long-border with Bangladesh.
The National Investigation Agency (NIA) said detectives had seized "training material for making improvised explosive devices and some jihadi literature" from Khalid Mohammed.
Preliminary investigations reveal that Mohammed had been living in India with fake documents and had "received training" from Pakistan-based militant groups. He had been running training camps near Bangladesh's border with Myanmar, also known as Burma, the agency said.
Mohammed is the second foreigner to be arrested in connection with the explosion. A Bangladeshi man, Sheikh Rahamatulla, was arrested earlier in West Bengal.