Indian media: Modi at G20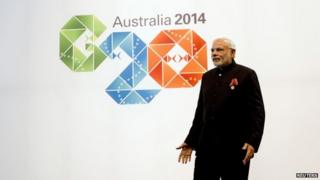 Papers praise Prime Minister Narendra Modi's efforts to win international support in India's fight against "black money".
Mr Modi on Sunday pushed for global rules to boost India's efforts in bringing back untaxed wealth stashed in foreign banks.
India says illegal funds are often sent to tax havens, including Mauritius, Switzerland, Liechtenstein and the British Virgin Islands, and Mr Modi's government has said "unearthing black money is an important issue" for them.
"I urge every jurisdiction, especially tax havens, to provide information for tax purposes in accordance with treaty obligations," the NDTV websites quotes Mr Modi as saying.
Mr Modi was addressing a session titled "Delivering Global Economic Resilience" during the G20 summit in Australia.
At the end of the two-day summit, the G20 issued a communique which included a pledge to modernise international tax rules in a bid for greater transparency.
According to Indian officials, "the reference to transparency, which was not there in the draft communique", was incorporated after Mr Modi's "strong intervention", the Hindustan Times reports.
The paper calls the inclusion of transparency in the communique a "victory" for India.
The Times of India praises Mr Modi for urging the "world community to take coordinated decisions".
"Close coordination is important not just for addressing the challenge of black money but also security issues like terrorism, drug trafficking and arms smuggling," the paper quotes Mr Modi as saying.
Apart from pushing India's agenda at the summit, Mr Modi also unveiled a statue of Indian freedom leader Mahatma Gandhi in Brisbane on Sunday, The Indian Express reports.
"I firmly believe that Mahatma Gandhi is as relevant today as he was during his time," the paper quotes him as saying.
Triumph in China
In other news, cricketing legend and MP Sachin Tendulkar has adopted a village in southern Andhra Pradesh state.
Tendulkar on Sunday took the responsibility for the development of Puttamrajuvari Kandrika village, The Economic Times reports.
The cricketer is a member of the Rajya Sabha (upper house of the parliament).
The initiative is part of Mr Modi's programme that encourages every parliamentarian to "adopt" a village and develop it as a model for others to follow.
"This is a model village which we are trying to create and it should set an example for the rest of the country... This is just the beginning," the paper quotes Tendulkar as saying.
And finally, papers are praising badminton players Kidambi Srikanth and Saina Nehwal for winning the China Open Super Series.
"Giant killer" Srikanth beat China's five-time world champion Lin Dan to win a Super Series Premier event, says The Times of India.
"While Olympic bronze-medallist Saina had to draw from her reservoir of experience to stave off the challenge of Akane Yamaguchi of Japan, young Srikanth notched up a stunning straight-game victory over two-time Olympic champion Lin Dan of China to register his maiden Super Series title," the paper adds.
Former Indian players have also praised Nehwal and Srikanth's triumph.
"It's time we believed that the Chinese can be conquered...Today, Saina and Srikanth have shown the way. I am sure this will boost the confidence of other players and change their perception about the Chinese," the paper quotes badminton legend Prakash Padukone as saying.
BBC Monitoring reports and analyses news from TV, radio, web and print media around the world. . You can follow BBC Monitoring on Twitter and Facebook.