World papers praise Sharma's record-breaking ODI innings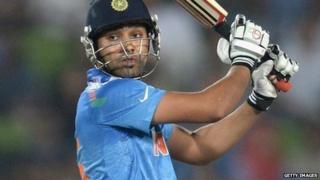 Papers around the world are struck with awe and disbelief over Indian batsman Rohit Sharma's record-breaking innings of 264 in a one-day international.
His 264 in the fourth ODI against Sri Lanka beat the previous record of 219 made by fellow Indian Virender Sehwag against West Indies in 2011.
In taking his side to 404-4, Rohit, 27, also became the only player to hit two double centuries in ODIs.
The right-handed opener's 173-ball knock included 32 fours and nine sixes as India won by 153 runs in Calcutta.
Papers in India are full of flattering headlines about the right-hander's crafty innings.
"Rohit Sharma defeats Sri Lanka by 13 runs," this headline in the DNA newspaper nicely reflects the dominant nature of Sharma's innings.
Sri Lanka fell 13 runs short of the stylish batsman's individual score.
"The Mumbaikar (Mumbai resident) paced his innings to perfection as he first got set during the initial 50 runs before exploding against a clueless Lankan attack," the paper says.
The Hindustan Times says "Sharma redefined one-day batting with a 173-ball 264 to better Virender Sehwag's highest individual score of 219 and show when it comes to effortlessly ripping into the opposition, he is best-suited for the job".
Highest individual ODI scores
264: Rohit Sharma, India v Sri Lanka, 2014
219: Virender Sehwag, India v Australia, 2011
209: Rohit Sharma, India v Australia, 2013
200*: Sachin Tendulkar, India v South Africa, 2010
194*: Charles Coventry, Zimbabwe v Bangladesh, 2009
194: Saeed Anwar, Pakistan v India, 1997
See the full list of ODI scores over 150
'Remarkable wrist'
Sharma's feat has made top headlines in the media of most cricket-playing nations.
In Australia, Fox Sports seems mesmerised with Sharma's unorthodox way of hitting a six off Nuwan Kulasekara.
"When a batsman hits the ball into or over the boundary rope 42 times in one innings, you'd think it would be hard for one shot to stand out from the crowd," it says.
"Sharma took a massive step to his right, exposing all three stumps. Kulasekara responded by sending down a full ball that, if Sharma had left it, probably would have been called a wide. But the Indian was in no mood for leaving the ball and so he used remarkable wrist power to flick the ball over long-on for a massive six," it says.
Cricket Australia says Sharma's innings was just "unbelievable".
And papers in Sri Lanka too are full of praise for the batsman despite their team suffering a massive defeat.
"Sri Lanka falls short of Rohit Sharma's epic 264," says the lead headline of the Daily Mirror.
"The Lankans were clueless against a dominant Sharma who took the entire control of the Indian innings soon after his survival in the fourth over," it says.
In neighbouring Pakistan, papers say Sharma played one the finest innings of the ODI format.
A headline in the Pakistan Today newspaper reads: "Rohit 264, Sri Lanka 251 enough said!"
"By the end of the innings, his batting had become cartoonish. There was no shot he had not played. No part of the ground he had not exploited. No bowler who escaped his brutality," the paper writes.
'Brutal' innings
English papers have also been commenting on the thrilling innings.
The Guardian's Lizzy Ammon writes that "Sharma's innings started unconvincingly and he was dropped when he was on just four".
"However, within 20 overs his strokeplay had become nothing short of brutal. He batted throughout, only holing out to long-off on the final ball of the innings," it says.
The Telegraph's Ben Bloom writes that "all the more remarkable was the acceleration shown by the Indian batsman, moving from 51 to 250 in 94 balls after taking 72 balls for his first half-century".
BBC Monitoring reports and analyses news from TV, radio, web and print media around the world. . You can follow BBC Monitoring on Twitter and Facebook.