India sterilisations: 'I could have died too'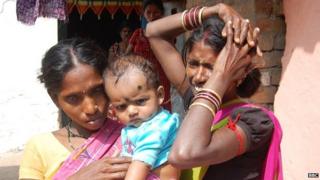 At least 15 Indian women have died after botched sterilisation surgery at two state-run clinics in the central state of Chhattisgarh. One of the families affected recounts their tragedy to BBC Hindi's Alok Putul.
"I don't know how Rekha died," says her elder sister Anjani.
After returning from hospital last Saturday night, Rekha took medicine given to her after her operation and then started to vomit.
"The moment she had pill, she started throwing up."
She kept on crying, says Anjani.
"Rekha kept saying, 'I will die. I will not live. Save me, please take me to the doctor.'
"Then she cuddled her four-month-old baby boy, handed him over to me and asked me to take care of him."
Anjani, herself in tears, said that Rekha, who was 22, promised to return when she was better - but she never did.
"I don't understand how this happened. I got this operation done three years ago and I'm fine," says Anjani.
Another sister, Nandini, was also supposed to have gone with Rekha for the surgery.
But their grandmother said it would be too much to look after the two of them following the operation.
"That's why I didn't go with my sister. I could have been dead too. Now after the tragedy, I am so scared that I can't think of this operation at least for four to five years," Nandini says.
"If I have five or seven babies, then only will I consider sterilisation."
She said Rekha had put her child on her lap and said, 'look after him till I return'.
The family lives in the village of Amsena, about 17km (about 10 miles) from the town of Bilaspur. Only a week ago, their little home was bubbling with joy with all the sisters coming home from their in-laws' houses.
Rekha had her operation on Saturday at the government-run clinic in the nearby village of Pendari. In all 83 women are reported to have undergone sterilisation surgery, which villagers say was performed by one doctor in just six hours.
The sisters' mother is dead, so their grandmother now faces bringing up Rekha's children.
"She went for the operation as the health workers from the camp advised her a large family is no good - they said it's better to have sterilisation now that you have two kids," says Anjani.
The BBC's Manoshi Barua contributed to this report.