Narendra Modi: India PM visits holy city of Varanasi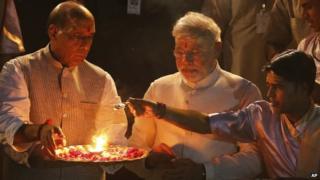 Narendra Modi is visiting the Hindu holy city of Varanasi, in what is his first visit to his constituency after becoming India's prime minister.
Security has been tightened in the city and the neighbouring villages.
Mr Modi is expected to adopt a village and announce plans for its development.
In May, Mr Modi was elected to parliament from Varanasi as well as from another seat in his home state of Gujarat. He later gave up his seat in Gujarat.
Varanasi, on the banks of the Ganges river, has long been neglected despite its religious significance - it is filthy, chaotic and overwhelming and has dismal infrastructure.
During his day-long visit on Friday, Mr Modi is expected to lay the foundation stone of a trade facilitation centre and a crafts museum to help local weavers, who have fallen upon hard times.
He will also travel to the village of Jayapur, 24km (14 miles) from the holy city, and announce plans to make it a "model village" under a federal scheme.
Mr Modi last visited Varanasi after his landslide election win in May.
He offered prayers on the banks of the Ganges, in a ceremony which was rich in political symbolism, underlining his roots as a Hindu nationalist.
Mr Modi also promised to clean up the polluted Ganges, considered a sacred river by Hindus.