Inside Punsari: A model Indian village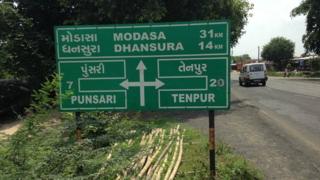 A typical Indian village conjures up images of mud houses, narrow potholed streets, with no drainage system and no running water.
Unless one is talking about Punsari - a village of 6,000 in Sabarkantha district, some 90km (56 miles) from the western city of Ahmedabad in Gujarat state.
Punsari has been dubbed a "model village" by the state government and its young headman, Himanshu Patel, proudly states that his village offers "the amenities of a city but the spirit of a village".
Prime Minister Narendra Modi has sent officials to Punsari to study its development model and prepare a scheme for creating model villages all over the country. The village has also been visited by "more than 300 officials" from all over India who want "to learn how they can replicate our model in their states", Mr Patel says.
When I visited the village, I was impressed with what I saw. It has round-the-clock, uninterrupted water and electricity supplies - something that is rare in hundreds of thousands of Indian villages.
Dynamic, popular
Every home in the village has toilets, there are two primary schools, a primary health centre, street lights and a drainage system.
And that's not all. The entire village is wifi enabled, has CCTV cameras installed at strategic points and a public address system which covers the entire population with the help of about 140 loudspeakers installed all over the village.
Mr Patel is dynamic and popular. A graduate, he is a technology and media savvy man who promotes his village like a corporate salesman - rattling off year-on-year data on its "bulging growth rate", its record of "no case of school dropouts" and the growing list of state and federal government officials who come from his village.
I met some young boys outside the village who prided themselves in being part of this development story - Punsari has been awarded the "best village in Gujarat" several times and it may very well be among India's most developed villages.
Mr Patel leads an 11-member committee which runs the village affairs. Of these, five are women.
The committee's headquarters look like a modern corporate office - on one side is a conference hall where the council holds its meetings, on the other is a glass screen on which one can see four windows of live pictures beamed from the CCTV cameras installed on key locations in the village.
'No school dropouts'
Mr Patel shows the same live CCTV footage on his iPhone screen - it displays a classroom. "It helps me monitor school activity," he says.
We visit the school, it is not far from his office - the children look tidy in their crisp uniforms; they eat their free lunch distributed through the central government's midday meals scheme. The headmistress, Bhagwati Behn Patel, says "there is a zero incident of school dropouts in my school". The school is also wifi-enabled and offers computer classes.
The project to make Punsari a model village began in 2006 when Mr Patel, then 23, was elected the village headman - then, it was like any other undeveloped Indian village.
"When I took over, there was nothing in the village," he says. "Prime Minister Narendra Modi was the state chief minister at the time and his idea was to ebb the flow of migration from villages to cities by creating city-like infrastructure."
Mr Patel says the village council has spent 140m rupees ($2.28m; £1.43m) on development schemes between 2006 and 2012.
If the idea was to stop migration out of the village, it has been a partial success - Mr Patel says 15-20 families have returned to the village from the cities like Mumbai in recent years.
Among them is taxi driver Naveen, whose family came back to the village after having lived in Mumbai for years.
"We were struggling in Mumbai to fulfil our daily needs. We decided to come back after we heard from our neighbours about the development in the village and prospects of jobs."
Naveen is yet to find a job but he is happy that he doesn't have to deal with traffic jams, pollution and other big city problems any more.