Indian media invited to rather formal 'informal chat'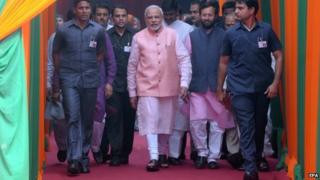 India's mainstream media has had a rocky relationship with Prime Minister Narendra Modi.
Mr Modi believes that the media has often been unfair and hostile to him after it blamed him for not doing enough to stop the religious riots in Gujarat in 2002.
So Mr Modi's first meeting with the media after leading his BJP to a landslide win in May was interesting in more ways that one.
Selected senior journalists received text invitations on Friday, saying that it would be an "informal chat" with the new prime minister. Further inquiries revealed it would be a get-together to mark the festival of Diwali.
We were asked to reach the ruling BJP's Ashoka Road office in Delhi by 10:45 in the morning. Finally, a grizzled invitee gleefully told me, Mr Modi had decided to loosen up and talk to the media.
When I arrived at the tightly-secured venue on Saturday morning, it was clear that this would be no "informal chat", but a more formal function under a vast tent.
Several empty chairs were placed on a stage flanked by two TV screens and the beaming faces of Mr Modi and party chief and close aide Amit Shah on a huge poster in the back ground.
More than 100 journalists and TV crews had been invited. They sat around white-clothed tables waiting for Mr Modi to address them.
'Broom'
Mr Modi arrived around midday, and launched into a speech about his campaign to clean up India which is evidently close to his heart. He thanked journalists for highlighting it, and said disseminating news and views about the campaign was a "good example of journalism playing a constructive role." The journalists listened quietly.
"You have turned your pen into a broom," Mr Modi said, alluding to the extensive media coverage that his campaign has been getting.
The prime minister was addressing hard-boiled - and now - access-starved political journalists, many of whom who would not have reported a single story on health and sanitation.
So, Mr Modi, on his home turf, used the bully pulpit to spread his message. There were no questions, of course.
After the brisk 10-minute speech Mr Modi plunged into the crowd, mingling with the grateful journalists and even obliging requests for rare selfies.
In the background, some of his senior ministers were actually having more engaging conversations with news-hungry hacks about Mr Modi's impending foreign travels, energy prices, skirmishes on the India-Pakistan border, and internal security.
Long way
On the podium earlier, Mr Modi recalled his days as a party functionary when he used to help with seating arrangements at media sessions at this office and often met journalists.
"Those were the days," he said wistfully. He said he was "looking for ways to strengthen his ties with the media".
It is not clear what he meant by that, but I found it the most interesting remark of the morning.
Was he ready to hold pressers where he would take questions and answer them frankly? Or would he keep avoiding the mainstream media and continue to depend heavily on the social media and the bully pulpit, where he talks and others listen?
In New York last month, Mr Modi met a group of US-based journalists for a "private social interaction".
"Everything, even the meeting was off the record," wrote a journalist who was present.
Mr Modi came halfway to interacting with the domestic media. The prime minister has still got a long way to go to open up to the journalists and have a more equal relationship with the media.
For somebody who, according to many, likes to control the message, it won't be an easy thing to do.