Media say Modi's Diwali trip seen as politically motivated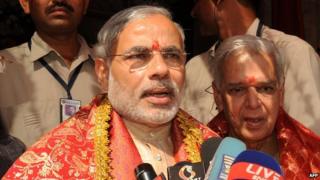 Media reflect criticism that PM Narendra Modi's visit to the state of Jammu and Kashmir on Diwali is politically motivated and meant to win votes for his BJP party.
Earlier this week, Mr Modi announced that instead of celebrating, he would spend the day in Srinagar "with our brothers and sisters affected by the unfortunate floods".
Last month's floods in Indian-administered Kashmir killed 281 people and left the main city of Srinagar under water.
The Hindu notes that "while the announcement of the prime minister generated hope among the flood survivors of a comprehensive package from the centre to rebuild their lives," separatist parties had called for a general strike and peaceful protests against the visit.
Hurriyat Conference leader Syed Ali Shah Geelani has said that visiting a Muslim-majority state on Diwali was "nothing but cultural aggression", the Hindustan Times reports, adding that Jammu and Kashmir Liberation Front chief Yasin Malik denounced Mr Modi's decision as "an act of politicising a human tragedy".
"Jammu and Kashmir is due to go the polls by early next year and the BJP is hoping to move from the political margins in the valley to emerge as an alternative to established parties facing increasing disillusionment among people," the paper explains.
The First Post website recalls that the PM's visit comes after "thumping electoral victories in Maharashtra and Haryana".
"There is obviously a connection here given that there is intense speculation that polls are likely to be held in December this year in Jammu and Kashmir. Modi - puffed by success after success - wants to replicate this success in the state of Jammu and Kashmir," the website comments.
The Hindustan Times strikes a more celebratory note in its editorial by saying that the "government's economic reform measures leading into Diwali - labour, diesel and coal - have lifted Indian stock markets by 3% in the last week alone".
The daily expects the trading New Year that begins today "to usher in bigger initiatives aimed at boosting investment and creating jobs".
Defence deals
The Indian government is likely to resume "long delayed" plans to develop diesel-electric submarines and anti-tank guided missiles, The Times of India reports.
It quotes a defence ministry source as saying that the deals are expected to be discussed by officials this Saturday.
"Both long-term projects will involve indigenous production with foreign collaboration in tune with PM Narendra Modi's 'Make in India' policy," the paper explains.
Boxer suspended
And finally, international boxing association AIBA has suspended Indian boxer Sarita Devi for refusing to accept her bronze medal at the Incheon Asian Games in early October, the Hindustan Times reports.
She declined the award in protest against her controversial defeat in the semi-final.
"After the episode, Sarita also wrote an apology letter to AIBA. But the world body decided to suspend the boxer as well as the coaches," the paper adds.
BBC Monitoring reports and analyses news from TV, radio, web and print media around the world. For more reports from BBC Monitoring, click here. You can follow BBC Monitoring on Twitter and Facebook.