Media hail plans for coal mines auction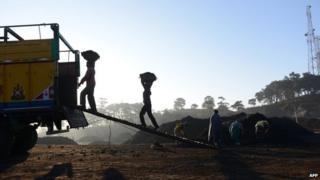 Media in India welcome government plans to put up coal mines for bidding by private steel, power and cement companies and introduce changes in the law to enable commercial mining in the future.
The move comes after last month's decision by the Supreme Court to cancel almost all coal mining licences awarded by the government since 1993 because they were found to have been awarded illegally.
The Hindustan Times notes that the new auction-based system will replace the "controversial policy of allotting coal blocks based on recommendations of a panel of bureaucrats".
It says the step signals intent by the authorities to fully open the sector to private players. "The measures… follow close on the heels of labour and fuel sector reforms and are likely to go down well with markets," comments the paper.
Kalpana Jain, Senior Director, Deloitte in India, tells The Indian Express that while public sector companies would continue to be allocated coal mines on a priority basis, "the move to e-auction identified blocks for private sector users is most welcome " as it "paves the way for utilisation of the mines effectively".
"Ordinance to douse coal fire, enable e-auctions," exclaims the Business Standard in its headline.
The Times of India, however, says that although the decision "will make the process through which end-users of coal can acquire a steady and assured supply of coal more transparent", it will "not amount to denationalisation of the sector".
The daily warns that some experts see this as a "half-hearted" move to reform the coal industry.
Clean India
Taking the Clean India campaign forward, the Delhi government has decided to set up a helpline where people can lodge complaints related to cleanliness in the city, The Pioneer reports.
A special control room will be created so staff can receive calls directly form the public.
The paper quotes Delhi Lieutenant Governor Najeeb Jung as saying that in order to fulfil the promise of making India's capital clean by 2019, "there cannot be any complacency in the government machinery or within the local bodies".
Prime Minister Narendra Modi launched the nationwide Clean India campaign at the beginning of this month.
Lost Report App
And finally, Delhi Police will soon launch a mobile application where people can register complaints about the theft of vehicles, writes the DNA newspaper.
The initiative comes after the popularity of the "Delhi Police Lost Report App", which more than 550,000 people used in the past eight months to report lost items.
Delhi Police Commissioner B S Bassi says the mobile app meant that "so many people were saved from the trouble of physically going to the police station".
BBC Monitoring reports and analyses news from TV, radio, web and print media around the world. For more reports from BBC Monitoring, click here. You can follow BBC Monitoring on Twitter and Facebook.