Indian firework factory blast kills workers in Andhra Pradesh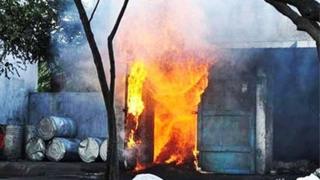 An explosion at a fireworks factory in the southern Indian state of Andhra Pradesh has killed at least 17 people, police say.
The explosion on Monday afternoon started a fire and destroyed the Manikanta Fireworks factory.
The blaze took place in the village of Vakatippa in East Godavari district.
Accidental explosions are common at Indian factories making fireworks for weddings, religious festivals and other ceremonies.
Senior police officer RP Thakur told BBC Hindi that firecrackers were being made by casual workers without the correct permits when the explosion happened.
The fire spread through the factory with thick black smoke rising in the sky. The dead included a number of women.
"We were working inside, when it happened so suddenly. We were thrown a huge distance," a worker who survived the explosion told local media.
Rescue workers took out the bodies and sent 10 severely injured workers to a neighbouring hospital, police said.
It was not immediately clear how the fire started and the police are looking for the factory owner.
Andhra Pradesh Deputy Chief Minister N Chinnarajappa told the Press Trust of India that the factory had broken rules by employing too many staff members.
"Thirty persons were present at the site when the explosion occurred. There is a limit according to law, but excess workers were present... It is an unfortunate incident," the minister said.
At least 34 people were killed and 30 others injured in a massive blaze at a fireworks factory in the southern state of Tamil Nadu in 2012.
And in 2009, 16 people were killed in a blast in a firecracker factory in Tamil Nadu.