Media see BJP victory in state vote as new 'Modi wave'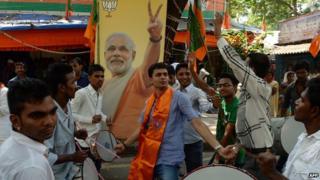 Media in India interpret the success of the ruling BJP in crucial elections in two states as a sign of PM Narendra Modi's unabated popularity. They warn, however, that he must deliver on his promise of change.
Mr Modi's party won in Haryana and in the economically important western state of Maharashtra, home to India's financial capital Mumbai.
The First Post website notes that the BJP has managed to "knock out Congress from its bastions" in both states and that Mr Modi has passed his "first major popularity test" since winning a landslide victory in national elections five months ago.
"The 'Modi wave' that had announced a reorganisation of the political centre in the Lok Sabha [parliamentary] polls in May is now pushing against states' shores," declares The Indian Express.
The Times of India announces that the "Narendra Modi wave washes away Congress again", assuring its "continuing political marginalisation".
Writing in the Hindustan Times, Aurangzeb Naqshbandi says that "a beleaguered Congress" now "stands at crossroads". He argues that "the back-to-back electoral defeats have yet again raised the clamour for a massive overhaul of the party".
The Indian Express attributes BJP's victory in Haryana and Maharashtra to "the same package of promise and persuasion" that had won the party the parliamentary polls and projected Narendra Modi as "the symbol of hope and change".
"While celebrations are in order, the BJP has no time for smugness," warns an editorial in The New Indian Express. It says the party "must deliver" after receiving a "vote for development".
The Business Standard also strikes a cautionary note. It writes that negotiations on government formation in Maharashtra, where the BJP does not have an overwhelming majority to rule on its own, will be "closely watched, including by investors".
"Mumbai and coastal Maharashtra are the engines of Indian growth far more than any other part of the country," the daily explains.
Pickpockets
A total of 2707 thefts have been reported in the Delhi Metro in the past four years, the Hindustan Times reports.
But it says police have managed to solve only 483 cases, or less than 20%.
"Cases of such thefts are only growing, which shows that the police have failed to crack down on thieves in Delhi's most reliable mode of public transport," Zishan Haider, director of social organisation Public Protection Movement, tells the Hindustan Times.
In order to help, transport authorities have prepared a list of pickpockets who have been active on the trains. The daily adds that Delhi Police are also in the process of opening special booths at all important Metro stations across the Indian capital.
BBC Monitoring reports and analyses news from TV, radio, web and print media around the world. For more reports from BBC Monitoring, click here. You can follow BBC Monitoring on Twitter and Facebook.