Media defend MP Tharoor's decision to join Clean India drive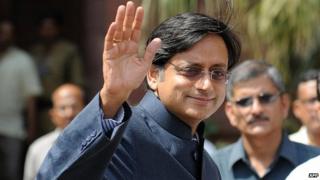 Media in India feel the Congress party's decision to remove MP Shashi Tharoor from the post of party spokesman has sent a "dispiriting signal" about inner-party democracy.
The twice-elected MP from Kerala recently said he was "honoured" to have been invited by Prime Minister Narendra Modi to be part of his Clean India campaign.
The MP was among nine prominent Indians nominated by the prime minister to be part of his five-year Clean India campaign, launched on Mahatma Gandhi's birth anniversary on 2 October.
Mr Tharoor's critics said his praise of the PM had "embarrassed" the main opposition party.
"What, precisely, is the reason why Mr Tharoor is being punished? Is it only his acceptance of the prime minister's invitation to be part of the Swachh Bharat [Clean India] Mission?" asks The Indian Express.
"The party has not just failed to communicate clearly why it has seen it fit to remove one of its more articulate spokespersons at a time when it needs to marshal its resources to stay in the public argument," the paper adds.
'Misfit' in politics
The Times of India reminds the party that "being in opposition does not necessarily entail opposing every move of the party in power".
"What makes the decision particularly harsh is that Mr Tharoor was not given an opportunity to defend himself especially when he had pleaded that the 'full range' of his statements and publications should have been considered by the party's decision-makers," the paper adds.
The Asian Age too criticises the Congress for not behaving like "a proper opposition party".
"Being chastised now for accepting the position of 'icon' from the PM and being one among many high-profile personalities from all walks of life to boost the government's Clean India campaign surely can't be a serious infraction," it says.
Defending Mr Tharoor, an article in the DNA newspaper says "he is a misfit in India's politics. Unlike many, he doesn't fawn over his leader or abuse his opponents at the drop of his hat, something which is touted as a much-needed acumen to survive in today's politics".
UN award
Moving on to other news, a police officer from Indian-administered Kashmir has won the UN's International Female Police Peacekeeper Award for her "exceptional achievements".
Shakti Devi, 38, who is currently deployed in the UN Assistance Mission in Afghanistan, has been honoured for leading the establishment of Women Police Councils in several parts of Afghanistan, says a report in the Business Standard.
"Women folks are always complaining about investigations not done properly. So our main focus is to provide justice to the women of Afghanistan," she said.
BBC Monitoring reports and analyses news from TV, radio, web and print media around the world. For more reports from BBC Monitoring, click here. You can follow BBC Monitoring on Twitter and Facebook.