India holds crucial elections in Maharashtra and Haryana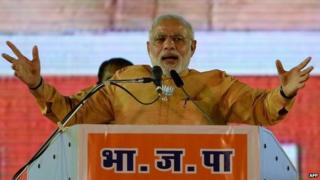 Voting has been held in state elections in India in what is seen as PM Narendra Modi's first major test of popularity five months after he led his BJP to a landslide general election win.
The BJP is hoping to win in Maharashtra and Haryana, which have been ruled by Congress along with its allies.
In September, the BJP suffered a setback in a string of by-elections.
However, unlike September, Mr Modi campaigned personally this time seeking votes for his party in the two states.
Results in both the states will be declared on Sunday.
Western Maharashtra state, which is home to India's financial capital, Mumbai and has a population of 110 million, is one of India's biggest and most politically crucial states.
More than 80 million people there were eligible to vote in a five-party contest for the 288 assembly seats.
"Unless Mumbai and Maharashtra progresses, the country won't move forward. You have wasted 15 years - please don't waste any more time," Mr Modi - who addressed more than 25 public meetings in the state - told a campaign meeting ahead of Wednesday's polls.
Breaking up
Both the BJP and Congress are fighting the election on their own after they broke away from their key allies in Maharashtra.
The BJP surprised many by breaking off an alliance with Shiv Sena, a right-wing regional party, and the Congress split with the Nationalist Congress Party (NCP), an ally with whom it has governed the state for 15 years.
Opinions polls have predicted the BJP will narrowly cross the 145-seat threshold needed to obtain a majority in the assembly.
Analysts say the polls in Maharashtra will also prove whether the BJP is able to win elections on its own in India's fractured politics, where smaller regional parties hold sway in the states.
This is a carefully thought-out strategy," political analyst Girish Kuber told the Reuters news agency.
"Earlier, they didn't have the legs to make it on their own in states where regional allies are strong, but given Mr Modi's pan-Indian appeal, it seems that they will succeed."
In northern Haryana state, the BJP is locked in a battle with the ruling Congress and the regional INLD party.
More than 10 million people were eligible to cast their votes for the 90 seats in the state assembly.
Mr Modi spoke at more than 11 campaign meetings in Haryana, where the BJP is aiming to deny the Congress party a third consecutive term in government.