Cyclone Hudhud: Media highlight 'gigantic rehabilitation' task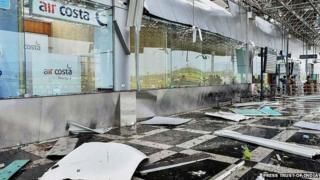 Media urge Indian officials to turn their focus on the "gigantic task of rehabilitation" in the cyclone-hit areas of Andhra Pradesh and Orissa states.
Cyclone Hudhud wrecked homes, uprooted trees and power lines, blocked roads and damaged crops in the two states.
At least 24 people have died in the cyclone that pounded India's east coast on Sunday.
Electricity and transport services have been badly hit in both states.
Papers have published front-page headlines on the trail of the destruction left by the cyclone.
"Hudhud-ravaged Vizag [Visakhapatnam city] may take months to recover", says the Deccan Herald's headline.
The Tribune's headline reads: "AP, Orissa reel under Hudhud aftermath."
Papers say the authorities managed to minimise the loss of life due to advance weather warnings and evacuation efforts, but the administration now has the "gigantic task" of rehabilitation at hand.
"The good work done so far by all agencies concerned can go in vain if the after-effects are not handled efficiently… The state and the central agencies have a lot of work at hand, and they cannot afford to be complacent. The follow-up measures, including central financial aid, are critical," says The Pioneer.
The Hindustan Times echoes similar sentiments.
"The centre and state governments have done well in weathering Hudhud at its peak. They must now stay the course in reconstruction efforts," it says.
Poll test for Modi
In other news, papers feel that Wednesday's assembly elections in the states of Maharashtra and Haryana will be a "test" for Bharatiya Janata Party (BJP) president Amit Shah and Prime Minister Narendra Modi.
Ahead of the polls, the BJP broke its 25-year-old alliance with the Shiv Sena in Maharashtra and also ended ties with the Haryana Janhit Congress in Haryana.
Papers are discussing whether Mr Shah, who received praise for the BJP's victory in the general elections earlier this year, can lead the party to victory without the support of key allies.
"All eyes are now on BJP president Amit Shah's gamble of going it alone in the two crucial states", says The Asian Age.
And finally, the government is considering a proposal to use popular TV shows to spread awareness of PM Modi's Clean India campaign, reports The Asian Age.
Various ministries are discussing a media plan to promote the message of sanitation through prime-time programmes on different TV channels, it adds.
The Swachchh Bharat (Clean India) campaign was launched by Mr Modi on October 2.
BBC Monitoring reports and analyses news from TV, radio, web and print media around the world. For more reports from BBC Monitoring, click here. You can follow BBC Monitoring on Twitter and Facebook.