India's DLF shares fall after market ban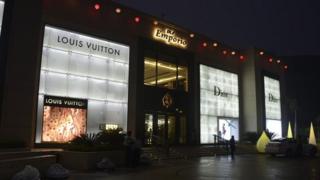 Top Indian property developer DLF's shares fell to a record low after the financial market regulator banned it from capital markets for three years for allegedly defrauding investors.
Company shares fell as much as 24%, raising investor concerns about how it would service its $3bn (£2bn) debt.
The regulator accused DLF of "active and deliberate" suppression of information during a stock offering.
DLF said it would defend itself against the regulator's order.
India's biggest real-estate company had raised $2.3bn in 2007 in what was then the country's biggest market debut.
"DLF and its board wish to reassure its investors and all other stakeholders that it has not acted in contravention of law, either during its initial public offer or otherwise," the company said in a statement on Monday.
The company was "guided by and acted on the advice of" its legal advisers, merchant bankers and audit firms while preparing the offer documents, and that it would defend itself against the order passed by Securities and Exchange Board of India (SEBI), the statement said.
SEBI said DLF had failed to provide key information on subsidiaries and pending legal cases at the time of its 2007 initial public offering.
In a 43-page order published on Monday, SEBI said DLF, its founder and chairman KP Singh and five other company executives would be barred from "buying, selling or otherwise dealing in securities".
SEBI said it was issuing the order "to protect the interest of investors and the integrity of the securities market", and that the ban would take effect immediately.
"As far as non-disclosure cases are concerned, this is the biggest case in SEBI's history and this is by far the biggest punishment they have imposed," JN Gupta, a former executive director at the regulator told the Reuters news agency.
Analysts say Monday's ban means DLF could now struggle to bring down its debt as it would be unable to raise money through the sale of shares or bonds.
Delhi-based DLF builds homes, offices, shopping centres and malls.
Its founder KP Singh is ranked 505 on the Forbes list and is the 21st richest Indian with a net worth of $3.3bn, according to Forbes data.