Indian media criticise Kashmir border clashes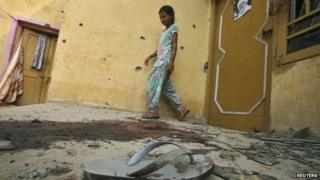 Media are strongly criticising fresh clashes between India and Pakistan along the disputed border in Kashmir.
Both countries have accused each other of unprovoked firing along the border.
Five civilians died after Pakistani troops fired shells into Indian-administered Kashmir, India said.
Pakistan said four civilians in Pakistan-administered Kashmir had been killed in firing by Indian troops.
Claimed by both countries in its entirety, Kashmir has been a flashpoint for more than 60 years. The South Asian rivals have fought two wars and a limited conflict over the region.
The firing coincided with the Muslim festival of Eid. However, this time, both sides did not exchange sweets at the border on the occasion, the First Post website reports.
Border troops of the two countries have usually exchanged sweets on important holidays.
Leading Indian dailies have given front-page coverage to the incident.
"Ugliest gift from Pak on Eid", reads The Pioneer's headline.
"As Pakistan violates ceasefire, India vows 'effective retaliation'", says The Indian Express' headline..
'Measured response'
Papers are urging the Indian government to come up with an appropriate strategy to deal with Pakistan.
"There seems to be evidence that violence along the Line of Control (the de facto border that divides Kashmir between the two nations) has risen over the past two years… This is why India must ensure that its response to these and similar provocations is measured and proportionate", says the Hindustan Times.
"India should remain measured in its response at present, but the larger strategy of handling Pakistan should be kept in mind", it adds.
Hindi paper Dainik Jagran echoes similar sentiments.
"India will need to rethink its strategy to deal with its neighbour as a desperate Pakistan - not having received even an iota of international support on Kashmir - has resorted to shedding the blood of innocent unarmed villagers at the border", it says.
The Tribune says such actions by Pakistan make it difficult for India to proceed with peace talks.
"The Pakistan army needs to understand that its efforts at puncturing the overall peaceful relations between the two countries are seen by many as nothing but an ineffectual assertion of its identity. India and Pakistan need to move their relations forward, and peace is a prerequisite for that", the paper says.
And finally, India's intelligence agencies have warned of possible terror attacks in the national capital, Delhi, and nearby areas during the festival season, The Asian Age reports.
The Intelligence Bureau says that Pakistan has sent a large cache of arms to the Indian capital to carry out attacks on key installations during the festival of Diwali, the paper says.
The places likely to be targeted include airports, railway stations, the Metro and shopping malls, it says.
BBC Monitoring reports and analyses news from TV, radio, web and print media around the world. For more reports from BBC Monitoring, click here. You can follow BBC Monitoring on Twitter and Facebook.