India temple appoints two Dalit widows as priests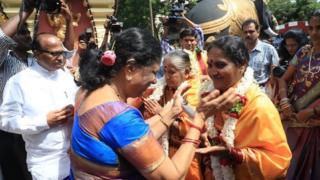 Two Dalit widows have been appointed as priests at a temple in south-west India, in a rare move for a country where caste prejudice is still rife.
The temple, in Karnataka state's coastal city Mangalore, was founded by social reformer Narayana Guru in 1912.
Widows have been allowed to perform rituals there before, but never Dalits.
Dalits, India's lowest caste, still face widespread discrimination, despite the country's prohibition of the practice in 1995.
Lakshmi, 65, and 46-year-old Chandravathi, were received at the entrance to the Kudroli Gokarnanatheshwara Temple by a former government minister, Janardhan Poojary, and other temple officials.
Mr Poojary said the women were selected "according to the teachings of social reformer Sri Narayana Guru", who considered everyone equally as children of God.
He told the BBC that his own childhood experience of caste discrimination, from within the Billava community, had strengthened his resolve to address a problem which persists despite various laws prohibiting it.
"I have seen the plight of the untouchables because I have myself suffered it. I am part of the toddy-tapping community of Billava who were barred from entering the temple. We were told we are not children of God," he said.
'Revolutionary step'
Some local commentators in Karnataka have welcomed the move.
"What Poojary has done is outstanding. It is revolutionary. People of lower castes are not even allowed to enter the sanctum santorum," the writer K Marulasiddappa said.
The Dalit writer Indudhara Honnapura said he is confident it will happen "elsewhere [in India] too".
Reports say the two widow priests will now receive at least three years of further training by the chief priest at the temple, Lakshman "Shanti", but temple officials did not confirm this.
The temple was renovated in 1991 and inaugurated by the then Prime Minister, Rajiv Gandhi.
In 2012 his widow, Sonia, attended celebrations to mark the temple's centenary, when 5,000 widows were first allowed to enter the temple and perform "puja" or religious rites.
The practice of untouchability, in which members of India's higher castes will not touch anything that has come into physical contact with those at the bottom, still exists in the world's largest democracy despite being banned.