Kennel 'used to punish Kerala schoolboy for talking'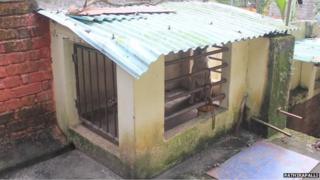 Authorities in the southern Indian state of Kerala are investigating reports that a five-year-old boy was locked in a dog kennel by his teacher for talking to another child in class.
Police said the school principal had been arrested, but later freed on bail.
The school has denied the claims, saying they are a "conspiracy".
The parents of the boy have alleged that the dog was removed from the kennel before the child was locked in.
The school, housed in an extension of the principal's home, has now been ordered to shut by the government.
Police said the incident is alleged to have taken place on Thursday but was reported to the police on Monday after the child's parents overheard him talking with his sister.
The boy's elder sister, who also studies in the same school, is reported to have witnessed her brother's punishment.
The parents led a protest outside the school on Monday, demanding immediate action against the principal and the teacher.
The Kerala state authorities have ordered an inquiry into the incident.
"Such behaviour cannot be tolerated in a civilised society," Social Welfare Minister MK Muneer said. "The Child Rights Commission has started an investigation. I have asked officials to do everything to ensure that whoever is responsible for this gets exemplary punishment," he added.
Education Minister PK Abdurabb said his office had also initiated a separate inquiry into the functioning of the school.
Child rights campaigners and social activists have voiced serious concerns over the alleged incident.