Jayalalitha's party names successor as Tamil Nadu chief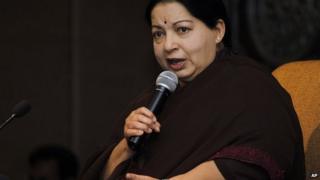 The party of India's jailed controversial politician Jayaram Jayalalitha has named O. Panneerselvam to succeed her as chief minister of the southern state of Tamil Nadu.
Jayalalitha was sentenced to four years in jail on Saturday after being found guilty of amassing wealth of more than $10m (£6.1m) which was unaccounted for.
A former actress, the politician has had a tempestuous career.
But her conviction means she cannot take part in elections for six years.
The verdict was delivered by a special court in Bangalore on Saturday, in a case that was filed 18 years ago.
She has to pay a 1bn rupee ($16m; £10m) fine.
India's politicians are rarely convicted for corruption and it is even rarer for them to spend time in prison.
But it is not the first time she has been sent to prison for corruption - she spent a brief time in jail over corruption charges in 1996.
The corruption case focused on her personal wealth and was brought by a rival political party,
Jayalalitha has always argued that it was politically motivated.
Known by her followers as Amma or Mother, she inspires intense loyalty, but she has been associated with a lavish lifestyle.
Her foster son's wedding almost 20 years ago broke world records for its sheer scale - including 150,000 guests.