Indian tweets celebrate as Mars probe Mangalyaan enters orbit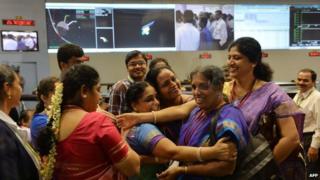 Thousands of Indians have taken to social media to celebrate the Mangalyaan robotic probe's entry into orbit around Mars.
The @MarsOrbiter Twitter account, run by Indian space agency Isro, has notched up more than 55,000 followers since the satellite went into orbit.
#Mangalyaan, #IndiaAtMars and Isro have also been among the top 10 trending terms on Twitter in the country since early Wednesday morning.
Many have been writing in with congratulatory messages to Isro and scientists involved in the operation and others have been praising the mission for its low cost.
In the last 24 hours #MarsMission has been tweeted about over 20,000 times, and the number is still growing.
Hundreds have retweeted this photo of female scientists celebrating.
The tone was set by Prime Minister Narendra Modi, who tweeted: "History is created & am glad to have witnessed it. Will never forget this day! Congrats to our scientists."
Former Indian president and scientist APJ Abdul Kalam, widely known as "missile man" for his contributions to India's satellite programmes, said: "Isro has yet again given the nation a reason to smile... Well done."
"Bharat Mata ki Jai [Long live mother India]!! Historic! Only country to have succeeded in first attempt, on budget less than Hollywood film!" tweeted Bollywood superstar Amitabh Bachchan.
MP and business tycoon Vijay Mallya said: "Proud to be Indian yet again. Congratulations to the Isro team for achieving a successful Mars orbit in the first attempt."
Many have been comparing the cost of Mangalyaan to the Hollywood film Gravity, while some have poked fun at Pakistan's space efforts.
Others have been driven to poetry by India's achievement: "Twinkle, twinkle, little star / World's envious; we're on mars! / Up above the world so high, / We've made it in a single try!"
India's successful mission to Mars attracted a fair amount of comment on Chinese micro-blogging websites.
On Sina Weibo, China's version of Twitter, many people admire what India has achieved and compare that with China.
Min Xihong said: "India is now more advanced than China, and their rocket finally went further!"
Another user, Kalamachangde, said: Finally India's probe reached Mars. Only a few months ago, Chinese experts were dismissive of their efforts. The low-key approach hid our narrow-mindedness.
But others are not sure about India's priorities.
Yanzhaojiurijushi argued: "The country can't even afford to build decent toilets, and now they make such a fuss. They'd better resolve their toilet problem first, and put in place law and order so that women can feel safe. What's the point of all this when you can't even protect your own women?"