Obama nominates Indian-American Richard Verma as envoy to India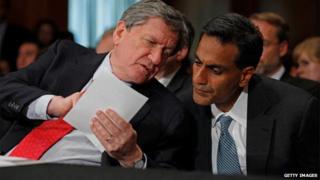 US President Barack Obama has named Richard Verma as the next ambassador to India, the first Indian-American to step into that role.
The announcement comes ahead of a visit to Washington by Indian PM Narendra Modi, planned for the end of September.
If confirmed by Congress, Mr Verma will replace Nancy Powell who resigned in March after a row over the arrest of an Indian diplomat in New York
Mr Verma is a lawyer who also worked as a security adviser in the Senate.
His association with Mr Obama goes back to 2008, when he helped prepare presidential debates for the then senator from Illinois, media reports say.
Specialising in international law, Mr Verma also worked as senior national security adviser to Senate Majority Leader Harry Reid and advised on a key commission on the prevention of weapons of mass destruction.
His parents came to the US in the early 1960s, having lived through India's Independence movement and the partition in 1947.
In 2010, Mr Obama said that the relationship between India and the US would be "one of the defining partnerships of the 21st Century".
But ties have failed to live up to those expectations and late last year relations soured when US officials arrested and briefly jailed Devyani Khobragade, an official in the New York consulate, on a visa fraud charge.
She was accused of underpaying her housekeeper and lying about it on immigration forms. Ms Khobragade always denied any wrongdoing and eventually left the US in January. India insisted she had diplomatic immunity.
The then ambassador to India, Nancy Powell, resigned and although officials said she had planned the move for some time, there was speculation it was linked to the Khobragade controversy.
Mr Modi is due to visit Washington on 29 September for a trip aimed at revitalising ties.
Mr Modi, who led his Bharatiya Janata Party to a sweeping win in May, was denied a US visa for many years over allegations that he did not do enough to stop the 2002 anti-Muslim riots in the western state of Gujarat while he was the chief minister there.