Bollywood actress Deepika Padukone: Anger over cleavage tweet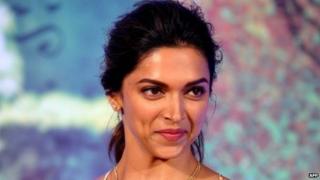 Bollywood stars have joined hundreds expressing outrage after a top Indian newspaper published a photo and report on actress Deepika Padukone's cleavage.
On Sunday the Times of India tweeted a photo taken last year with a link to a web photo gallery and caption: "OMG: Deepika Padukone's cleavage show".
An angry Padukone responded on Twitter: "YES! I am a Woman. I have breasts AND a cleavage! You got a problem!!??"
The daily later put out a tweet urging her to consider it a compliment.
The newspaper has since removed the original tweet about Padukone's dress, which she wore to a film launch last year.
#IStandWithDeepikaPadukone trending
"Supposedly India's 'LEADING' newspaper and this is 'NEWS'!!??," Padukone wrote on her Twitter account on Sunday.
"Don't talk about Woman's Empowerment when YOU don't know how to RESPECT Women!" she added.
Several Bollywood celebrities and hundreds of fans have come out in support of the actress and #IStandWithDeepikaPadukone was the top trend on Twitter in India on Monday.
"Appalled....shocked and disgusted at the level of disrespect shown. Deepika or any women in the world cannot and should not stand for this!!" tweeted producer, director Karan Johar.
"I just read... about @deepikapadukone retort to cheap sensational journalism, well done girl," actor Arjun Rampal wrote on Twitter.
"Kudos to Deepika for being a strong woman and speaking up!," tweeted fashion designers Gauri & Nainika.
Much of the outrage is summarised by the comment posted by Hindustan Times columnist Madhavan Narayanan.
Many ordinary Indian women have also poured onto Twitter to voice their respect for her stand.
Newspaper defence
Following criticism, the Times of India tweeted to the actress that the report was meant to be a "compliment": "You look so great that we want to make sure everyone knew! :)"
The newspaper's defence, however, failed to placate many and actress Nimrat Kaur tweeted: "Dear @TOIEntertain... with this 'compliment' , I shudder to think who this 'everyone' is you're reaching out to?"
But some tweets adopted a more sceptical approach to the torrent of tweets in support of Deepika.
Padukone, daughter of badminton player Prakash Padukone, is one of India's most successful models and actresses.
She made her acting debut in 2006 with a Kannada-language film, but found instant fame one year later with her Bollywood debut Om Shanti Om where she was cast opposite superstar Shahrukh Khan.
She has taken the lead in nearly a dozen films and her latest - Finding Fanny - was released on Friday.