Health fears loom after Kashmir floods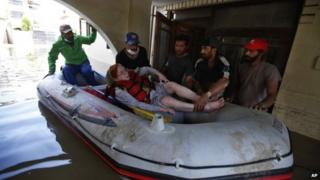 Officials in Indian-administered Kashmir say they are preparing for an outbreak of water-borne diseases more than a week after the region was hit by the worst flooding in decades.
More than 184,000 people have been rescued but authorities say another 100,000 people are still marooned.
Across the border in Pakistan 18 people died when a boat carrying a wedding party capsized in Punjab province.
The death toll in the two countries has passed 480 and is expected to rise.
Even though flood waters have been subsiding in recent days, many areas in India's Jammu and Kashmir region remain inundated and there are fears of an epidemic.
Reports from the ground speak of a stench of death from animal carcasses, rotting vegetables, overflowing drains and other filth.
India's Health Minister Harsh Vardhan visited Kashmir on Sunday to review the situation and promised all assistance to the state health authorities, an official statement said.
Kashmir Chief Minister Omar Abdullah has sought the federal government's help in restoring health infrastructure affected by the floods and to carry out an extensive measles vaccination programme, the Mid-Day newspaper reported.
India's defence ministry said 13 tonnes of water purifying tablets and six water filtration plants with a capacity to filter 120,000 bottles a day had reached Srinagar.
But reports said with large parts of the region still under water, many people were still trapped on the roofs of their homes, and tens of thousands were in relief camps.
"It is going to take another three to four days to see the real damage. But right now, our biggest worry is about an epidemic breakout," OP Singh, director general of the National Disaster Response Force, said in Srinagar, AFP news agency reports.
"Many parts are still submerged in four to five feet of water and we are concentrating on supplying anti-diarrhoea, anti-infection medicines and using chlorine to avert diseases."
Across the border in Pakistan, swelling rivers continued to flood large parts of the country, affecting more than two million people.
Authorities say the army and emergency services have rescued more than 300,000 people.
In Sunday's boat accident near the Punjabi city of Multan, bridegroom Zahid Hamid was among those killed, an official said.
The boat, carrying more than 40 people, overturned due to the high pressure of flood water, he added. Two children were among the bodies brought to land.
The bride told a local television station that she had survived by grabbing onto an electricity pole.