India 'house of horrors' killer execution put on hold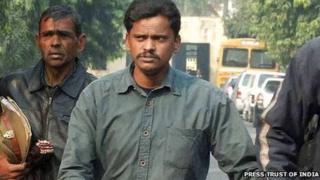 India's Supreme Court has put on hold the execution of a man in a murder case dubbed "the house of horrors".
In 2009 Surinder Koli and his employer Moninder Singh Pandher were convicted of murdering a 14-year-old girl. Pandher was later freed by a higher court.
On Monday the Supreme Court delayed the execution to allow a final appeal to be heard in an open court.
The crime shocked the country, with many accusing the police of negligence.
Police say at least 19 young women and children were raped, killed and dismembered in a house where Koli worked as a servant for the owner in the suburb of Noida near Delhi.
Koli has been found guilty of kidnapping, murder and attempted rape in at least five cases involving children.
Last week, authorities announced that he would be executed on 12 September in the northern city of Meerut in Uttar Pradesh state.
Early on Monday, the Supreme Court put on hold the execution by a week after Koli's lawyer argued that his client was entitled to a fresh appeal, media reports say.
Last week the top court had ruled that review petitions of death-row prisoners which had been rejected in a closed chamber should be taken up again in an open court, and that the convict's lawyer should be given an opportunity to defend his client.
Koli's lawyer told the court that his client should be entitled to a fresh appeal against the sentence on the basis of this verdict.
Executions are rarely carried out, but in the last two years there have been two hangings in India.
Mohammed Ajmal Qasab, the sole surviving attacker from the 2008 Mumbai attacks, was executed in November 2012.
And in February 2013, a Kashmiri man, Afzal Guru, was hanged for the 2001 attack on India's parliament.