India hanged girls' case: Bail for accused in Badaun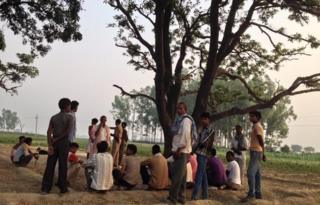 Three men, who were arrested in May for the alleged gang rape and murder of two teenage cousins in northern India, have been freed on bail.
The girls were found hanged from a tree in Uttar Pradesh state and the case sparked global outrage.
At the time a local post-mortem examination confirmed multiple sexual assaults and death due to hanging.
But last month, federal investigators said new forensic tests had concluded the girls were not sexually assaulted.
Officials at the Central Bureau of Investigation (CBI) said the clothes and personal effects of the girls had been examined by the Centre for DNA Fingerprinting and Diagnostics (CDFD) and it found no proof of sexual assault.
A court on Thursday bailed the three accused after federal investigators refused to charge them citing lack of evidence.
The men have been in custody for 90 days - the maximum period an accused can be held without being charged.
Two constables, who were also arrested along with the accused and charged with dereliction of duty and criminal conspiracy for not taking the parents' complaint seriously, were bailed on Monday.
The girls, who were from a lower caste, were found hanged from a tree in Badaun district on 28 May.
The girls, thought to have been 14 and 15, went missing when they had apparently gone out to relieve themselves as they had no toilet at home. Their bodies were discovered the following day.
A BBC correspondent in Delhi says the story of the hangings has got murkier with each passing day.
In recent weeks, officials have raised questions over the testimony of the victims' families, accusing them of failing lie-detector tests, and raising doubts about the credibility of the main witness, a neighbour of the girls.
Some reports have said the murders may even be a case of honour killing.