Global media's 100-day report card on PM Modi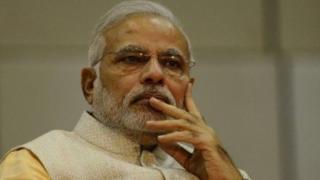 Indian Prime Minister Narendra Modi continues be under intense international media spotlight as he completes 100 days in power.
Foreign papers' initial cynicism over his leadership seems to have given way to a real assessment of his policies in the past three months.
Several Western media organisations, led by The Economist and The Guardian, had raised questions over his secular credentials during the peak of his election campaign in April.
The Economist said India "deserves better" while referring to Mr Modi's candidature for PM.
"We would be delighted for him to prove us wrong by governing India in a modern, honest and fair way," the magazine added.
So has Mr Modi proven the magazine wrong?
Not entirely.
Questions still remain over the absence of any "big-bang" economic reforms, high inflation and a sharp rise in pro-Hindu rhetoric in the country.
Writing in The Independent, John Elliott argues that "there are concerns about the Bharatiya Janata Party's right wing and its ideological partners pushing a nationalist agenda. This has surfaced most damagingly with suggestions that all Indians are Hindus".
For more than a decade, his critics have been questioning Mr Modi over his controversial role in the 2002 anti-Muslim riots in the western state of Gujarat. He was accused of having done little to stop the riots in which more than 1,000 people died - an allegation he has always denied.
International papers have also highlighted his failure in coming up with a fresh fiscal policy.
The Economist, while praising some good initiatives of the Modi government, says "civil servants come to work earlier and spit less in stairways is progress; but it is not revolutionary".
"Two months into government early grumbles suggest the new prime minister is preoccupied with matters of style and administration, while he makes too little use of his political mandate," it adds.
Ellen Barry, writing in The New York Times, argues that Mr Modi has decided to "just adjust, rather than dispose of, the economic policies of the previous government" in his first annual budget presented in July.
The PM has come to power under the weight of huge expectations and India's unforgiving electorate wants him to bring change and that too in quick time.
But is he going to bring the change he has promised? Analysts say Mr Modi hasn't clearly outlined his plan.
"This early wave of disenchantment is a reminder that the man India elected this year is, in some ways, a cipher," adds Mr Barry.
'Unexpected initiatives'
Despite raising questions over his policies, papers have praised him for some of his unexpected initiatives.
His election made headlines across the world for more reasons than one.
India gave a clear mandate to any party for the first time in three decades and in the process elected a man who says he once worked as a "chai-wallah" (tea vendor) at a railway station.
Many foreign papers saw India's grand old Congress party's defeat as an end to the "rule of the elite" in Delhi.
Mr Modi has done many things right since taking oath. Most analysts agree that he has injected fresh stimulus to India's foreign policy, especially in the immediate neighbourhood and East Asia.
He has also impressed international papers with his unusual focus on basic issues like sanitation in his Independence Day speech on 15 August.
Nobody expected the prime minister to talk about the shame which rape brings to India or the problem of open defecation on a historic day since PMs have traditionally used such occasions to publicise their policies.
Eastern frontier
Mr Modi seems to have received more positive coverage in East Asian countries like Japan and China.
The PM's love for the two countries' growth model is an open secret.
Most Chinese papers have been enthusiastic about relations with India under Mr Modi's watch.
"The Sino-India competition is like a soccer match. China is leading at the first half of the game with a wide margin. The second half of the game is beginning as India enters into the Modi era," The China Youth Daily said in June.
'Poet' Modi
In Russia, still considered by many as India's "all-weather ally", the coverage of Mr Modi has been largely positive.
The Kommersant initially seemed worried over the fact that Mr Modi "is not a very international person".
"Mr Modi is an unknown and unclear figure so far, and what is worse, he is not only a successful manager, but also a poet. It is a difficult question how to deal with poets, especially poets in power," the Kommersant said.
But that was in July. Russian papers are now upbeat on the prospects of better Moscow-Delhi ties under Mr Modi's watch.
BBC Monitoring reports and analyses news from TV, radio, web and print media around the world. For more reports from BBC Monitoring, click here. You can follow BBC Monitoring on Twitter and Facebook.