Word cloud: Narendra Modi's words as Indian PM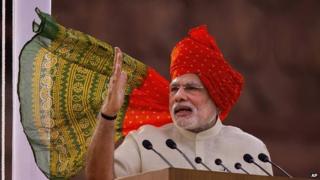 Has Narendra Modi's choice of words changed after becoming India's prime minister?
A word cloud comparison of Mr Modi's speeches before and after India's general election shows that the BJP politician has sobered his tone.
He was ferocious in his attacks on opposition parties and sometimes used strong words in his election speeches.
The Hindu nationalist leader largely focused on attacking the Congress over corruption during his poll campaign. He also criticised the Nehru-Gandhi family's prominence in the Congress party and said "one family" alone cannot run the country.
But that seems to have changed because the PM has mostly refrained from mentioning the name of either Rahul or Sonia Gandhi in his statements and speeches after becoming PM.
"Development" and "India" appeared more often than any other word in Mr Modi's speeches during the poll campaign. And these two words still figure prominently in his speeches as prime minister.
He focuses heavily on development and often talks about his idea of a corruption-free India.
The prime minister frequently talks about his dream of an India that includes better economic growth, improvements in national security and better safety for women.
Foreign policy
Mr Modi hardly spoke about his thinking on wider foreign policy issues during the poll campaign. He only mentioned China and Pakistan during his campaign speeches, saying "India needed to be ready to face any threat coming from the neighbours".
But that has now changed. He initiated talks with Pakistan and invited all South Asian leaders to his swearing-in ceremony - a move that was seen as a diplomatic coup in May.
But his government cancelled the talks after Pakistan's high commissioner to India met Kashmiri separatists leaders in Delhi.
However, the PM seems to be taking India's focus beyond Pakistan as he decided to visit Nepal and Bhutan after taking oath. He mentioned both these countries in his statements and talked about India's cultural ties with them.
The prime minister has also mentioned his fondness for Japan and China's growth models several times in his statements and speeches.
He also focused specifically on women's safety after taking oath and stressed the importance of building "toilets" in villages and cleanliness in Indian cities.
He has also talked about developing India's space technology to give more power to the country's defence and meteorological services.
Some analysts say Mr Modi has broken several boundaries by talking about basic issues like hygiene, toilets and timeliness as India's prime minister.
But others say Mr Modi needs to put his words into actions to truly bring "acche din" (good days) to India as he had promised during his poll campaign.
BBC Monitoring reports and analyses news from TV, radio, web and print media around the world. For more reports from BBC Monitoring, click here. You can follow BBC Monitoring on Twitter and Facebook.