India mulls new coalfield auction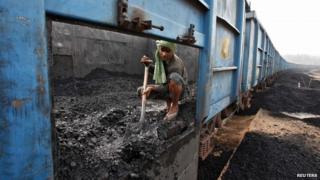 India's government has told the Supreme Court it wants to re-auction those coal mining licences the court declared illegal in a ruling last week.
Between 1993 and 2000 governments issued 218 coal-mining licences to state and private companies.
But the court said they were awarded in an unfair and non-transparent manner, and without competitive bidding.
The government has now told the court it would like to "re-auction" those licences.
India's federal auditors say the state lost $210bn (£134bn) because coalfield rights were sold off cheaply.
Although these sales were declared illegal the court has yet to decide if they will be revoked.
India is one of the largest producers of coal in the world and more than half of its commercial energy needs are met by coal.
Large areas containing coal are divided into blocks, which can then be leased to mining companies.
The Supreme Court is now examining whether the 218 licences given to "coal blocks" illegally should be cancelled.
Mining is going on in some of the coalfields affected by last week's ruling - others are still lying idle.
On Monday, India's Attorney General Mukul Rohatgi told the court that the government wanted to "re-auction" the 218 licences of coal blocks, but it would be "happy if we we save some 40 of them which are functional or operational and ready for end use [thermal energy] plant".
He said there was a need for saving 40 coal blocks as uncertainty over coal supplies would hurt the power plants, when the country is facing acute shortage of electricity.
Correspondents say mining has become a source of massive corruption in India after the country opened up mining to private companies without strong and independent regulation.