Indian woman delivers baby boy after swim to safety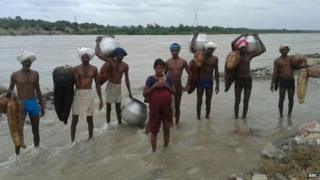 An Indian woman who swam across a river swollen by monsoon rain in her ninth month of pregnancy has had a baby boy.
Yellavva had used dried pumpkins and gourds as buoyancy aids to swim nearly a kilometre from her river island village three weeks ago because she wanted to give birth in a hospital.
She said there was no medical centre in her village and she wanted her baby born safely.
She gave birth by Caesarean section in a private hospital on Saturday night.
Yellavva's daring swim had won her much praise with villagers and doctors describing it as an amazing achievement.
Resident of a small island-village on the Krishna river in the southern Karnataka state, Yellavva, 22, had swum to the mainland as its swirling waters were rising 12 to 14 feet and even experienced swimmers would have hesitated to get into the river at the time. She was helped by her father, brother and cousins who swam with her.
"I am very happy he was born in a hospital. They cut my stomach open and took him out. He weighs 4kg [8.8lb]," Yellavva told BBC Hindi from her hospital bed on Monday.
After her arrival on mainland, she was initially checked by a doctor at the local primary health centre, but for her delivery she was referred to the government hospital in the neighbouring Raichur district, said Dr Vanamala Vijaykumar Hesrur of the private hospital where Yellavva delivered her baby.
As the family could not afford to travel to the district hospital, she was taken in by the private hospital.
"Her family had hoped for a normal birth. We too waited for some time for her to deliver normally before deciding on a Caesarean section. If the baby was not this heavy, she could have perhaps delivered normally,'' Dr Hesrur said.
Yellavva said she was worried how her family would pay the hospital bill since "we are from a poor family".
But the hospital said they would waive off the fee.
"We have decided to give her free treatment. We underestimate the power of the rural woman. I was thrilled to have treated such a brave woman," Dr Hesrur said.