Indian media back stronger ties with Japan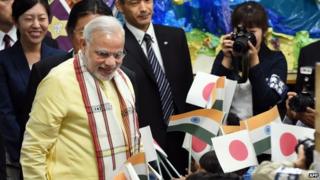 Papers are highlighting Japan's "warm reception" to Narendra Modi on his first visit to the country as prime minister.
Mr Modi arrived at Kansai airport in Osaka on Sunday before heading to nearby Kyoto where his Japanese counterpart Shinzo Abe received him.
The leaders visited two ancient Buddhist temples in the city.
Most newspapers agree that Mr Abe's "unprecedented" gesture of joining Mr Modi for a heritage tour reflects the significance of India in Japan's geopolitical strategy.
An article in the Hindustan Times headlined "Why Japan is wooing Prime Minister Narendra Modi", says "there's no denying that Mr Abe genuinely appears to like his Indian counterpart".
However, the "real reason" may be to counterweight China's regional hegemony, the paper adds.
"The more important reasons lie in a desire to keep China off balance, and pure commerce. Anti-Chinese feeling has grown rapidly in Japan under Mr Abe, and the nationalistic PM wants to build coalitions against perceived hegemony by the new regional bully [China]," the paper says.
The Times of India also says Mr Abe's gesture of flying to Kyoto from Tokyo to receive Mr Modi holds significance.
"Mr Modi's visit is already being hailed as an outstanding success after Mr Abe's gesture of flying to Kyoto to receive him there on Saturday," the paper says.
He has sought Japan's help to turn the holy city of Varanasi into a "smart city", The Indian Express reports.
"Under the smart heritage cities programme, Kyoto will provide cooperation in the fields of conservation and modernisation of cities, as well as art, culture and academics," the paper says.
Mr Modi has repeatedly emphasised on his desire to develop 100 "smart cities" in different parts of India during his speeches.
"Kyoto, in the Japanese lexicon, is known as a smart city which is environmentally friendly, which preserves its heritage and which is at the cutting-edge of technology. All these three are important in PM's vision of rejuvenating our cities," the paper quotes Syed Akbaruddin, spokesperson for the Ministry of External Affairs, as saying.
After the initial "bonhomie" the more crucial summit talks between Mr Modi and Mr Abe are being held on Monday, reports say.
"Mr Modi will look to cement strategic and defence cooperation with Japan when he meets his counterpart Mr Abe on Monday for crucial summit talks," The Times of India says.
Nalanda University
In some domestic news, the historic Nalanda University in northern Bihar state is set to be inaugurated on Monday, the NDTV website reports.
The ancient university had been ransacked and destroyed by invaders in the 12th century.
"The ancient Nalanda University, which attracted students from the world over, will rise again today, as classes will begin at its newly established campus at Rajgir," the website says.
"We will have a low-key launch with classes for the School of Ecology and Environmental Studies and the School of Historical Studies beginning at 9 am (local time) today. Right now there are 15 students and 11 faculty members at the campus," the paper quotes the university's vice-chancellor Dr Gopa Sabharwal as saying.
And finally, rain brought some relief from heat to residents in Delhi on Sunday, The Economic Times reports.
But the paper adds that rains also caused problems of water-logging and traffic jams in some parts of the city.
"It was rainy Sunday as Delhiites enjoyed the showers that stretched throughout the day bringing down the temperature to a pleasant 26 degrees Celsius," the paper says.
BBC Monitoring reports and analyses news from TV, radio, web and print media around the world. For more reports from BBC Monitoring, click here. You can follow BBC Monitoring on Twitter and Facebook.