Indian media: PM Modi's Japan visit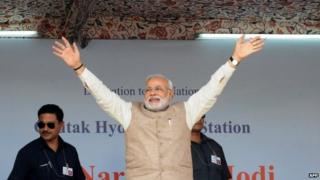 Media in India are positive about Prime Minister Narendra Modi's upcoming visit to Japan, saying it shows his "stamp" on foreign policy and his "vision" for Asia.
The five-day visit, which starts on 30 August, is Mr Modi's first trip to Japan as prime minister.
Media reports say nuclear energy cooperation, joint production of rare earth metals, defence collaboration and economic ties are high on Mr Modi's agenda.
Newspapers and commentators feel the visit reflects Mr Modi's attempt to balance ties with key world powers and to strengthen India's position in the international community.
"Mr Modi has already bared a two-fold focus to build a pragmatic, dynamic policy that ends the era of belated, reactive diplomacy: Proactively regain India's clout in its own strategic backyard and build closer but differentially calibrated collaboration with major powers", analyst Brahma Chellaney writes in the Hindustan Times.
Mr Chellaney welcomes India's growing ties with Japan.
"The India-Japan partnership holds the potential to shape Asian geopolitics in much the same way as China's rise or Barack Obama's 'pivot' to Asia. This win-win partnership can help to drive India's infrastructure development and great-power aspirations, while catalysing Japan's revival as a world power," it says.
The Economic Times says the visit is being billed as India and Japan's attempt to "balance the rising weight of China across Asia".
Meanwhile, an opinion piece in the Times of India draws parallels between Mr Modi and his Japanese counterpart Shinzo Abe.
"He [Modi] and Mr Abe follow in the steps of many leaders who have risen as promising reformers in nations yearning for change... What Mr Modi can learn from Mr Abe is just how swift the punishment can come for any delay in delivery on promises to an expectant nation," it says.
Twitter diplomacy
Papers are prominently reporting Mr Modi's tweets in Japanese ahead of his meeting with Mr Abe.
The Indian prime minister on Thursday posted a series of tweets in Japanese on his personal Twitter account.
It was followed by an explanatory tweet which read: "Friends from Japan asked me to talk to the people of Japan directly in Japanese. I also thank them for helping with the translation."
"To Tokyo with love: PM Modi tweets in Japanese ahead of bilateral visit", reads a headline in The Times of India.
And finally, India will soon sign an international pact to limit the harmful effects of mercury on the environment, reports the Hindustan Times.
After signing the Minamata Convention, India will phase out the use of mercury within 10 years, it adds.
The Minamata Convention on Mercury is an international treaty aimed at protecting human beings and the environment from harmful emissions of mercury.
Environment Minister Prakash Javadekar said the decision shows the government's "commitment to grow in a clean way without jeopardising growth", the paper says.
BBC Monitoring reports and analyses news from TV, radio, web and print media around the world. For more reports from BBC Monitoring, click here. You can follow BBC Monitoring on Twitter and Facebook.