Indian media pay tributes to yoga guru Iyengar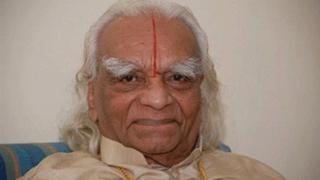 Media in India are remembering BKS Iyengar as a "global icon" and the "face of yoga" in the world.
Mr Iyengar, who is credited with popularising yoga on the world stage, died at the age of 95 in the western city of Pune on Wednesday.
His brand of yoga - Iyengar yoga - is taught in over 70 countries and the guru's books have been translated into 13 languages.
Mr Iyengar had a large following in foreign countries and had taught many celebrities including violinist Yehudi Menuhin.
Leading dailies are remembering Mr Iyengar's contribution to the world of fitness and health.
"BKS Iyengar, who took yoga to the world, exhales for the last time", reads the front-page headline in The Times of India.
The Indian Express describes him as a "guru who spread yoga craze in the West".
Papers are praising Mr Iyengar as a "global icon" and "one of the earliest ambassadors of India's soft power" in the world.
The Indian Express says Mr Iyengar provided "global popularity to yoga through his unique style".
"Iyengar travelled to different countries, propagating yoga as an art and a science. For all that, he disdained the yoga entrepreneurship that has come to characterise the discipline's newish global popularity, though, in many ways, he had paved the way for it", the paper says in an editorial.
Mr Iyengar made yoga "accessible to all regardless of class, caste and religion", says The Hindu.
The Asian Age describes Mr Iyengar as "the man who taught the world to live happily and die majestically", quoting one of the guru's famous messages.
Papers also praise Mr Iyengar's determination and discipline for overcoming health problems to continue practising yoga even when he was in his 90s.
"A lifelong student of yoga as he was… Iyengar… will be remembered by his disciples foremost as teacher exemplar, who shared with his disciples the gift of his own knowledge without holding anything back, imposing only these conditions: sustained practice, discipline and rigour", says an article by Nirupama Subramanian in The Hindu.
Moving on to other news, papers are prominently reporting the death of at least three people in police firing in the north-eastern state of Assam
The incident took place in Golaghat town on Wednesday when a crowd of over 1,000 people reportedly tried to set a police station on fire, the Zee News website reports.
The protest was a result of a land dispute between two ethnic groups in the region.
Police initially used tear gas on the crowd but opened fire when the protesters began pelting stones at the police, it adds.
BBC Monitoring reports and analyses news from TV, radio, web and print media around the world. For more reports from BBC Monitoring, click here. You can follow BBC Monitoring on Twitter and Facebook.