Indira Gandhi assassination: Controversial film set for release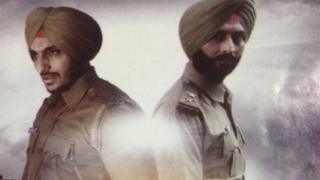 A controversial film on the October 1984 assassination of former prime minister Indira Gandhi is set for release in India on Friday.
Mrs Gandhi's Congress party has written to the prime minister saying the Punjabi film, Kaum De Heere, should be banned as it glorifies the assassins.
Intelligence agencies have warned of potential violence if it is released.
Mrs Gandhi was shot dead by her Sikh bodyguards for sending the military into the Golden Temple.
Sikhs say thousands were murdered when the army entered Sikhism's holiest shrine to flush out militants.
Mrs Gandhi's assassination triggered an outburst of communal violence targeted at Sikhs and more than 3,000 Sikhs were killed in attacks across India.
Kaum De Heere (Diamonds of the Community) tells the story of Satwant Singh and Beant Singh, Mrs Gandhi's assassins.
Beant Singh was killed by police shortly after the murder while Satwant Singh was later hanged.
The Congress party in Punjab, however, has threatened to carry out protests if the film is released.
"This movie presents murderers as heroes," Congress youth president Vikramjit Singh Chaudhary has written in his letter the prime minister.
The film's producer Ravinder Singh has denied the charge.
"I followed the court case and the inquiry report into the assassination and spent a lot of time with Satwant and Beant Singh's families before making the film," Mr Singh told BBC Hindi.
"Films have been made about political assassinations all over the world, so why can't a film be made on Mrs Gandhi's assassination?" he asks.