Why India has a touchy relationship with English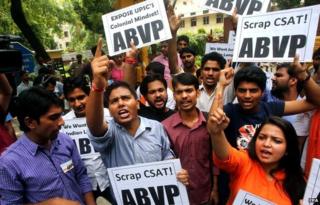 Recent street protests over a test aspiring bureaucrats must take shines a light on India's touchy relationship with English, writes Atish Patel.
Later this week, a rigorous annual process to select 1,000-odd people to join the upper echelons of India's civil services will begin.
Some 250,000 aspirants - many of whom have spent years preparing - will write a test made up of two papers that will quiz them on a wide variety of topics.
But just 5% of those who turn up on Sunday for the preliminary exam will qualify for the next stage - a much more taxing main examination in December.
As normal, Sunday's test will be in English and Hindi, with one of the two papers, known as the Civil Services Aptitude Test, or CSAT, including a section to test English proficiency.
But unlike previous years, test takers this time will leave this part - printed only in English - unanswered.
That's because after hundreds of candidates protested on the streets of Delhi in recent weeks, complaining the paper discriminated against those schooled in Hindi, the Bharatiya Janata Party (BJP) government decided the section's marks would not count.
Protesters say since CSAT was introduced in 2011, fewer Hindi-language applicants are succeeding.
They claim that of the 1,122 selected to join the civil services out of those who took the fiercely competitive exam last year, only 2.3% came from non-English schools, a drop from 25% in 2009.
Use of Hindi
The debate comes at a time when Narendra Modi has stated his preference for using Hindi, including on trips abroad, despite a decent grasp of English, since becoming India's prime minister in May. For many in his Hindu nationalist party, it's the same.
His administration also told officials to use Hindi on social media and in government letters. But after some southern states complained, it clarified the order only applied to northern states where the language is widely spoken.
Consequently, many say they are not surprised the government, pressured also by influential Hindi-belt opposition political parties in the parliament, caved in.
"I think they [protesters] felt they would get a sympathetic hearing and to some extent they did," said Shailaja Chandra, a retired Indian bureaucrat.
In the past, the question of whether Hindi should get primacy in India - a highly diverse country with 22 official tongues - has been deeply divisive.
In the 1960s, for example, the southern state of Tamil Nadu, where Tamil is the major language, witnessed deadly anti-Hindi protests.
Those against the top-down push for Hindi point out that very often it's not Hindi - spoken by 40% of the country's 1.24 billion population - but English which is used as the language for Indians from different states to communicate with one another. And this applies to civil servants too.
But critics of the test say there's a deeper undercurrent at play.
Mukund Madhav Sharma, head of Dhyeya IAS, a civil services exam training centre in Delhi which caters to Hindi-language aspirants, says his students are aware that in today's globalised world an understanding of English is necessary, but access to the civil service should not be denied to those whose knowledge of the language is limited.
Economic divide
He believes there's a growing social-economic divide among exam students that needs to be addressed.
"This issue is not of Hindi versus English but this issue is India versus Bharat," he said, meaning a divide between modern, urban India and traditional, rural India.
"This agitation is not against English but against the dominance of English," wrote Yogendra Yadav, a politician from the Aam Aadmi Party supporting the protest, in an Indian Express newspaper opinion piece.
Another bone of contention, say critics, is CSAT, which measures analytical reasoning, includes too many numerical-based questions which applicants who studied engineering or science at university are likely to go through quicker than those who picked a humanities or arts subject.
"In such type of cut-throat competition... there needs to be an equal playing field," Mr Sharma said, adding that the paper on a specific topic chosen by the candidates which CSAT replaced three years ago was fairer.
But retired bureaucrat Ms Chandra says that's not the point of the test.
"The goal is to find civil servants who have the aptitude, the willingness, the brains and the tenacity to handle extremely complex situations," she said.
The real problem here, some say, is the varying degrees of quality in India's education system.
Many graduating from India's most prestigious technical and medical colleges such as the Indian Institutes of Technology and the All India Institute of Medical Sciences, for which they must take competitive entrance exams, are equipped with skills allowing them to flourish professionally, often securing sought-after jobs abroad. But for those attending lesser universities, because of poor teaching and resources, that's not the case.
"That is a deficiency in the educational system which should be addressed," said PS Ravindran, director of Vajiram & Ravi, an English-language civil services exam coaching centre in west Delhi.
The debate over the format of the civil services exam is unlikely to end any time soon.
Many want the CSAT paper scrapped altogether, while applicants from other parts of the country are now raising concerns.
But for the time being there's a lull, as applicants make the most of the short time remaining until they sit an exam that could land them the job of their dreams.