Indian media: Parliament opposition leader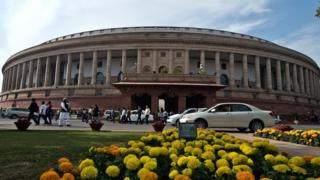 Media in India discuss parliament speaker Sumitra Mahajan's decision to not appoint the leader of the opposition in the house.
The ruling Bharatiya Janata Party (BJP) has an absolute majority in lower house of parliament, while the Congress party has only 44 MPs.
Ms Mahajan, who is a former BJP politician, said she rejected the Congress party's claim to the post because of the rules.
"A speaker is supposed to follow rules. I have to go by rules," she says.
"Though the Congress is the second-largest party after the BJP (282 members), it still falls short of the 55 members - 10% of the total strength of the lower house - needed for staking claim to the post," says The Indian Express.
In India, the leader of the opposition gets all the perks and services of a cabinet minister.
Cricket shake-up
Moving on to other stories, Pakistan's High Commissioner to India, Abdul Basit, on Wednesday met Kashmiri separatists in Delhi despite India's opposition.
India on Monday cancelled scheduled peace talks with Pakistan after Mr Basit's announcement that he would meet separatist leaders.
Indian Foreign Secretary Sujatha Singh was due to travel to Islamabad on 25 August to hold talks with her Pakistani counterpart Aizaz Chaudhry.
"Ms Singh had called up the high commissioner, asking him not to meet the separatists but Mr Basit chose to go ahead with the meetings," says the Hindustan Times in a report.
The DNA newspaper says "Pakistan's high commissioner continued to meet Kashmiri separatist leaders in an apparent and open defiance of an Indian government directive to desist from doing so".
And finally, papers welcome former Test captain Ravi Shastri's appointment as the director of the touring Indian cricket team in England.
His appointment comes in the wake of India's dismal three successive Test defeats against England.
Shastri will oversee the team during the upcoming ODI series in England.
"The shake-up is a clear indication that coach Duncan Fletcher's, whose contract ends in April 2015, wings will be clipped with Shastri taking over," says The Pioneer.
The First Post website says "Shastri, who can be relied upon to drive up the emotional intensity on air as a commentator, seems particularly suited to that task".
BBC Monitoring reports and analyses news from TV, radio, web and print media around the world. For more reports from BBC Monitoring, click here. You can follow BBC Monitoring on Twitter and Facebook.