Train collision with rickshaw in Bihar death toll at 21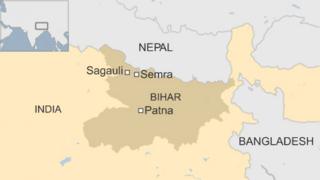 A train crash in the Indian state of Bihar on Monday left 21 dead and two injured, officials say.
Officials initially put the death toll at four but several bodies were dragged some distance, police said.
The gate of the manned crossing on the Sugauli-Semra track had been left open when a rickshaw drove into the path of the Rapti Ganga Express.
The driver of the overcrowded rickshaw and a family from the nearby Chinauta village were among the victims.
The gateman at the Semra railway station and two other staff members have been suspended for negligence of duty.
Accidents involving trains are very common in India, where 15,000 people die every year trying to cross the tracks. A government report confirming this blames the high numbers on poor safety standards.
The country has one of the world's largest rail networks but much of it is poorly maintained.